Hello friends! Summer has officially arrived here in NC and hot days are what's projected on forecast for the forseeable future. If anyone needs me, I'll be sitting poolside for the next month and a half. Don't get me wrong, it's a luxury of Summer I look forward to each year. Give this Mom a good book, nice breeze, the splash of laughter and a dose of Vit. D, and she'll be forever golden. (pun definitely intended on that one).
I may have Summer's recipe down, but there's a poolside essential one cannot ever dismiss. Sunscreen.
I'll admit, sunscreen hasn't always been a pre-requisite to endless Summer fun. I wish I had paid mind to the importance of sun and skin protection in younger years. The Banana Boat body oil SPF 15 was my naive attempt to level up on protection. And heaven forbid I'd spray that on my face. The imbalance of hormones combined with the oil and unknown ingredients was a recipe for disaster. (Had I paid mind to the ingredient list, it would be a different story, but let's just cock it up to my adolescence and naivety, k?) It was a boat I was not willing to sail on.
While those rays hold many benefits (Vit. D), they also can negatively impact your overall experience, am I right? That heat in your skin, the soreness, and burn tend to negate those Summer vibes real quick. Thankfully I haven't experienced the sun's larger negatives, but I've questioned the origin of wrinkles and sun spots on my face specifically. Banana boat or no boat, the lack of Summer's pre-requisite has raised concern. While full body sun protection is crucial, today's post topics sunscreen for the face.
It's no secret, I've been an advocate of safer beauty. Tula and Beautycounter are two brands that make up a huge part of my skincare regimen. Both not only hold the highest safety standards, but have recognized the importance of face focused sun protection in their seasonal product line ups. Today's post compares these newly released essentials – Tula's Protect + Glow Daily Broad Sunscreen and Beautycounter's Countersun Daily Sheer Defense.
As in past comparisons (sun tanning drops and Tula primers), I made sure to give them each a consecutive week of use. I tried out one product, waited a week, and followed with the other. With fair intent, I used both of them in the same order application. They are both designed to be used after moisturizer, so I followed order.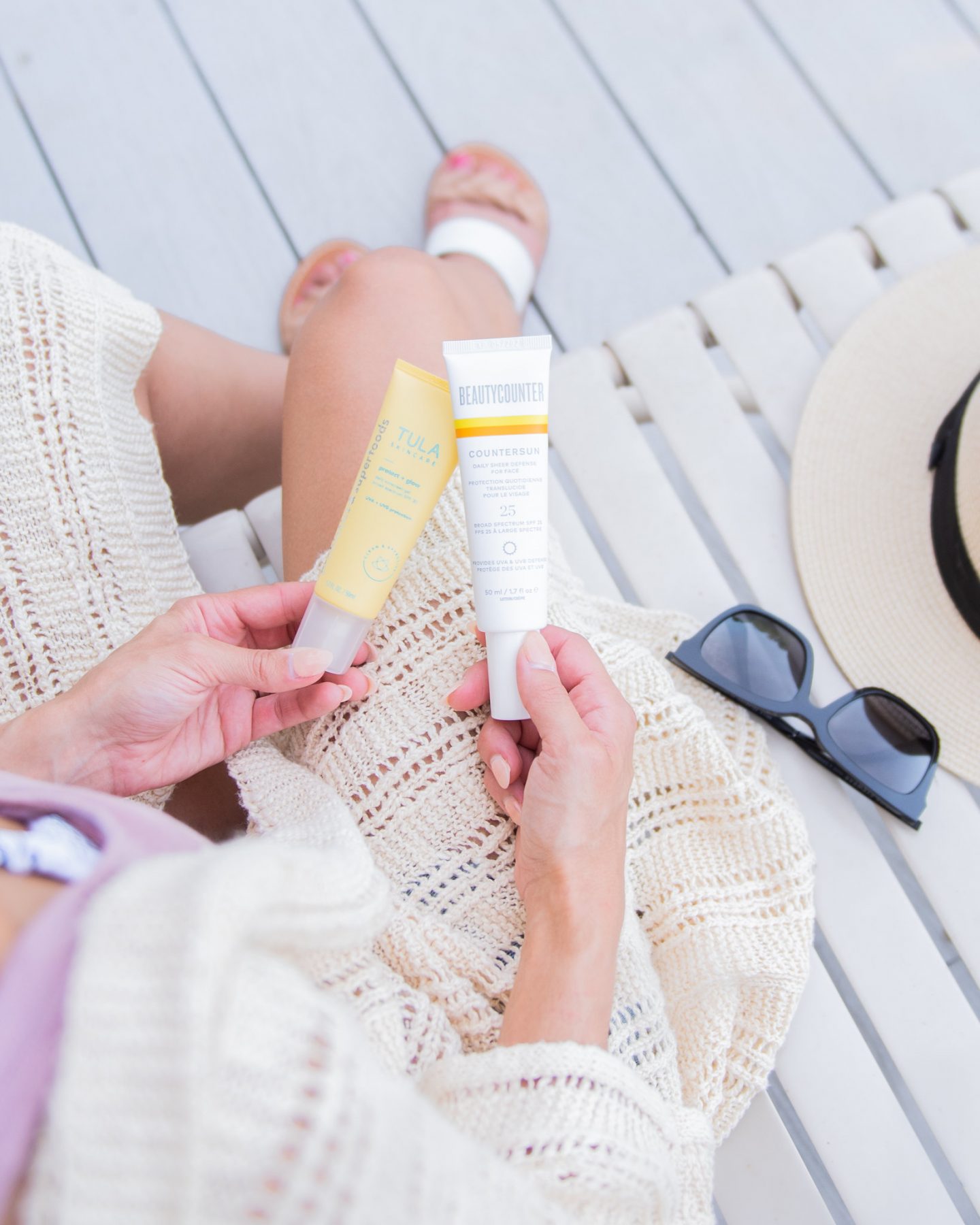 Let's first start out with Tula's Protect + Glow. I know aesthetics really aren't a huge matter in this comparison, but I'll say that I love the packaging! It's bright, fun, and carried right onto the bottle.
Formula // This gives your skin a gorgeous glow! I wasn't sure I'd like the shimmer, but the more I used it, the more I grew to love it. It's glow attribute allows you to wear it on no make up days, and alternatively wears well under makeup. I've used it on both. On days I wear primer, I've layered that on top of the SPF and it's still lightweight and secure. This non-comedogenic formula won't clog your pores or leave a white cast. And the best attribute – it's moisturizes skin without an oily aftermath! Lastly, it's smell has a slight sunscreen smell upon application, tho isn't overbearing.  Even if it was, who doesn't love the smell of Summer?
Benefits // Tula Skincare is built on the power of probiotics and superfoods to provide your skin what it needs! The probiotics in Protect + Glow help lock in moisture and strengthen the skin barrier. And pineapple, papaya, and wild butterfly ginger root help to promote an even skin tone, and protect against blue light. It provides daily SPF 30 plus protection from damaging pollution & blue light and is a must have for indoors and outdoors. Yes, indoors. The sun rays sadly aren't the only rays our face needs protected from.
Overall thoughts? LOVE it. Not only is it sunscreen, it's skincare. It's designed to protect and prevent while working to strengthen, moisturize and balance your skin.  It's clean, effective, and affordable (comes to $28.90 with 'sarahstories' at checkout).
---
Next, is a product I admittedly knew I'd love, even before use. Yes, there have been a few Beautycounter products I've tried over the years that weren't for me, but only because they're designed for a different skin type or they didn't address my personal skincare concerns. Obviously, sunscreen is a different product all together and its primary intent is to protect and prevent. Beautycounter's Countersun Daily Sheer Defense for Face is formulated for all skin types, and from reviews effective on the most sensitive skin. I also knew I'd love it, because well – it's Beautycounter. I've mentioned time and time again my belief in this brand and the mission they hold. It's EWG verified, cruelty free, and clean – without harmful or questionable ingredients used in formulation.
Formula + Benefits // My immediate notice when applying this non-scented lotion is that it's more liquid like. Not as thick as the Tula Sunscreen. It's lightweight, fast-absorbing, and an easy-to-blend formula with no white cast. Does not leave my skin oily and can be worn alone or under makeup.
In research, antioxidants help protect my skin from pollution, while chicory root extract supports my skin's moisture barrier to lock in hydration. Tho it's a slight lower in SPF protection at 25 SPF, it's similar to Tula providing that needed protection from UVA, UVB, and HEV blue light rays.
Overall thoughts? Just as expected. In LOVE. Beautycounter gets it. They understand the importance of Sunscreen and the value in formulating an aligning product.
Please note that neither are water-resistant. So just be mindful when you are swimming or sweating to reapply every 2-3 hours to keep your skin protected.
---
To recap, I've put together a factual side by side comparison above. Bottom line, sunscreen is important. Adding it to your routine is a simple task that will prevent hard negatives in the future. Both of these products are favored equally and will be on year round rotation. I hope this comparison was helpful and if you have any questions, please feel free to comment or message me on Instagram! As always, thanks for stopping by! xoxo