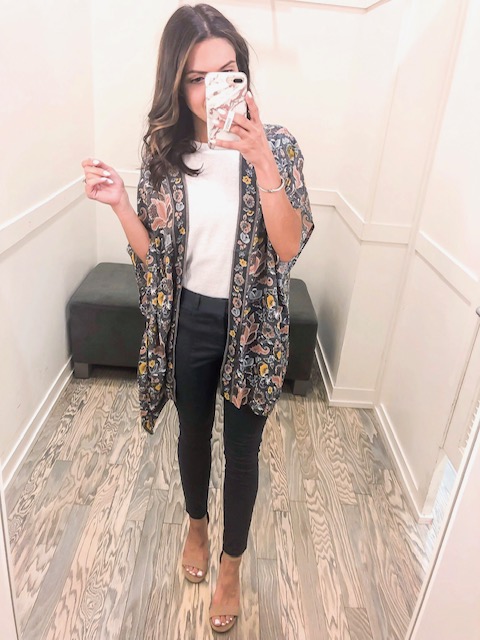 Happy Monday, friends! First off – can you believe it's the last Monday in July?! This month (and Summer!) has flown! Tho the Nordstrom Sale took top spot in content this month, I promised to cover the norm – IG round ups, Amazon favorites (coming Wednesday) and an addition to our series in Workwear! If you follow along in IG stories or in@liketoknow.it, you saw I managed to sneak out yesterday for a bit and head to LOFT to capture a few still shots! With August days away, Fall is easily in hindsight. You'll hear the word 'transition' a lot in the fashion world, as many are on the hunt for items that work now and later. I found several work appropriate pieces to style in both Summer and Fall seasons. Today's post rounds up those transitional LOFT workwear findings! I've also included transitional look options for further inspiration!
As a reminder – this post is the fourth in the workwear series, and you'll be able to access all other workwear related posts here. Additionally, every time I do a try on, I upload individual links to the designated retailers page. Under each stock image, I include details on sizing worn during the most recent try on and any thoughts worth noting. The items shown today coincide with the Transitional Workwear try on shown below.
One more tidbit to note – as in all Workwear try ons, I made sure to bring along a favorite low block heel for the try on. A shoe I think classy, versatile and very affordable. I've linked them below in the "shop the post" widget.
*all items are linked under the photo with sizing details*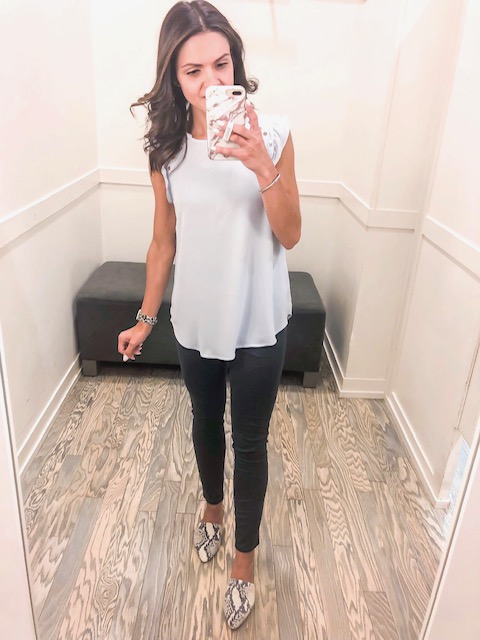 Top (TTS – wearing S, tho XS would have fit better ) | Pant (TTS – 2P)
Transition: layer with a cardigan or add a blanket scarf to accessorize
Top (TTS – XS, also avail in petite & plus ) | Pant (TTS – 2P)
Transition: Pair with a utility jacket and switch out pants for denim for a casual look
Top (TTS – wearing S, tho XS would have fit better, also avail in petite) | Skirt (runs large – 0P)
Transition: Layer with a blazer or long line duster cardigan. Switch out heels for a leopard print mule!
Blazer (TTS – 0, also avail in plus & tall) | Top (TTS – XS, also avail in plus) | Skirt (runs large – 0P)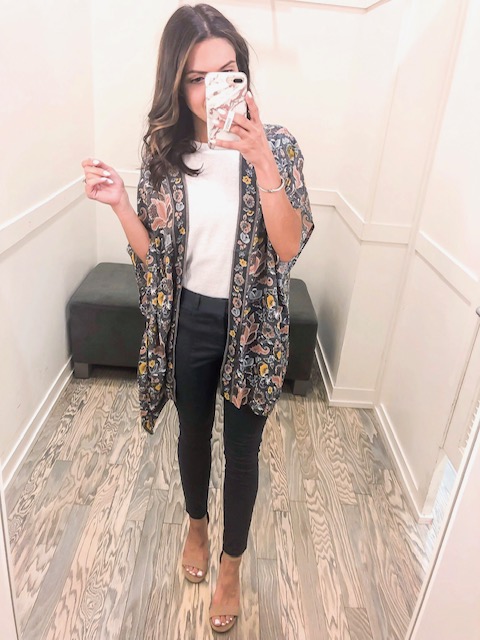 Kimono (TTS – XS/S) | Top (TTS – XS, also avail in plus) | Pant (TTS – 2P)
Transition: switch out the short sleeves for a long sleeve sweater or bodysuit
Cardigan (TTS – XS) | Top (TTS – XS, also avail in petite) | Pant (TTS – 0, also avail in petite, plus & tall)
Transition: this color blends beautifully with Fall's color palette. Pair with a printed blazer or cardigan
Dress (TTS – 2P)
Transition: Pair with a blazer, peacoat, or cardigan for warmth. Switch out heels with knee high boots
Top (TTS – wearing S, tho needed to size down)
Sweater (TTS – XS, also avail in petite) | Pant (TTS – 25)
Transition: switch out heels for booties and layer with a trench coat
Top (TTS – SP) | Pant (TTS – 0, also avail in petite, plus & tall)
Fall transition: layer with a cardigan/pair the top with a blazer
SHOP THE POST
[show_shopthepost_widget id="3672424″]