It may be nearly a week into the New Year, but I think my lapse only reflects the grace I am giving myself for 2021. If you read my thoughts on 2020, it's likely understood I've given myself time to gather, reflect, and see all the positivity that 2020 brought. More specifically, how much my style evolved. I know 2020 was basically deemed the year of loungewear. And while I am all for hanging out in sweats or the leggings opt in, I made it a point to get ready each and everyday. Didn't matter if I had no plans to leave the driveway, I still made sure a morning routine was in place and I put on 'real clothes'.
Yes, I've been at home for over 10 years now; It's safe to say the quarantine didn't effect my day to day residence as much as it did many of you. But I still had to shift to a new normal. I'd established a habit of getting dressed and ready each day long before the quarantine. It's something I look forward to everyday and helps me feel capable and competent with my work either on the blog or in motherhood. While loungewear was now a justifiable excuse for athleisure, it still didn't interest me much. Don't get me wrong, I am all for comfort. The change from my day to night wear is something I look forward to daily and lounging in cozies on the couch is an evening ritual. But aside from my morning workouts or yoga sessions, I hadn't ever considered athletic wear an option when outfitting the day's look. My morning commute may be a walk down the stairs rather than a drive across town, but the stay home order still presented an opportunity to neglect my style routine all together. And I wasn't going to have any of that.
Looking back on the years outfits, it's clear I gave casual the side eye. At least the majority of the looks involved a more dressier approach to comfort. I hadn't really ever thought myself as a girly girl, but creativity and a desire to feel put together brought that out of me, I guess. Today's post shares my top 20 favorite outfits of 2020. Whether it's a dress, coat or cardigan – many of my outfits were the result of finding pieces that were versatile. One can dress them up or down, no matter the mandate.
---
The majority of these looks are surprisingly still in stock. If not, I've made sure to link similar options for you to recreate them on your own.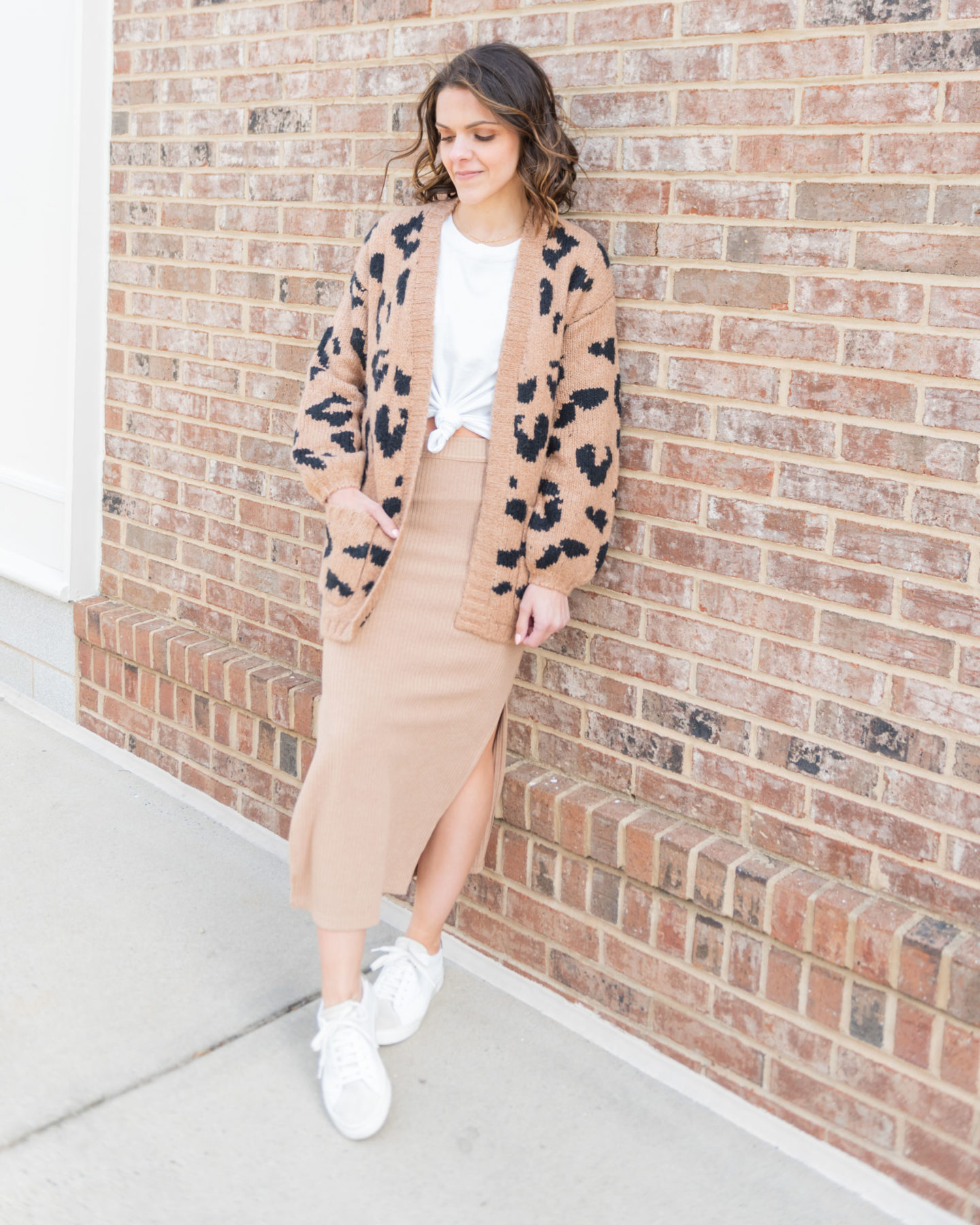 white tee | skirt | leopard cardigan | sneakers

tee | cardigan | skirt | sneakers
My love for a midi skirt grew to new heights. It's one of those pieces that fits perfectly in seasonal capsules. Looking back at photos, I recreated this dressed down knit midi look a few times. A simple tee, cardigan and sneakers is a simple, stylish look for running errands or quick brunch.
satin midi | denim jacket | snake print mules
Same goes for the satin midi skirt. Tho a bit more of a dressier aesthetic, you can still dress it down easily with a denim jacket and mules.
My faux leather leggings are probably one of my most favorite wardrobe purchases, ever. It's safe to say I wear these at least once a week. Pairing them with sweaters and oversized tops is an easy go-to look.
sweater cardigan | striped tee | denim c/o | boots
I pieced this look together while working with Allume Style this past year and I am still in love with it. I love the rolled denim over the chic boots. The sweater cardigan is another classic staple every girl needs in her closet.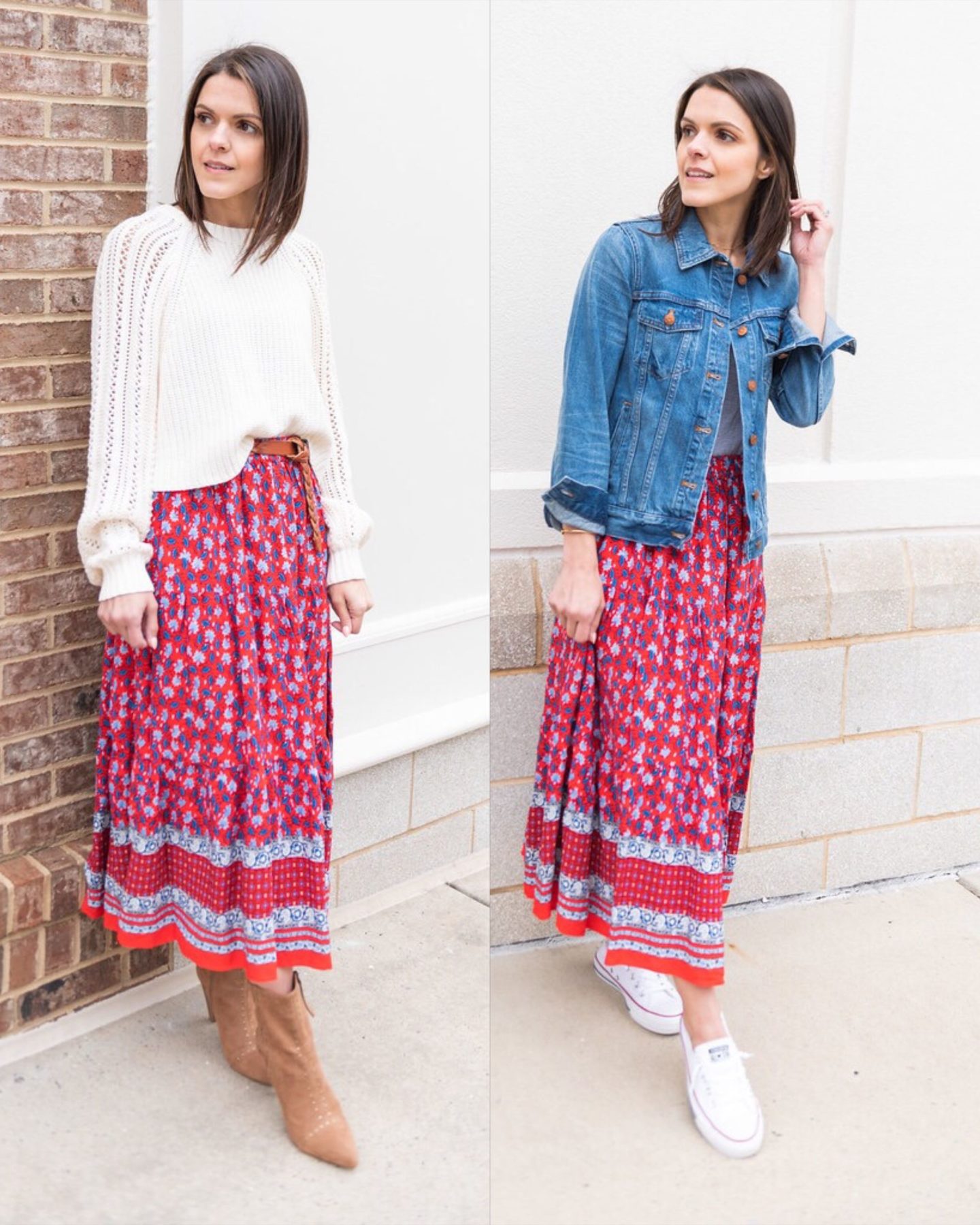 sweater | boots | denim jacket | sneakers
I fell in love with this skirt the moment I put it on for ya'll in a Spring Loft try on session. I love the bohemian style print and more importantly, that at it can be dressed up or down. Sadly, this is no longer available but you can easily recreate each look above with any maxi print dress of choosing.
tee | leather jacket | joggers | sneakers
The shift to loungewear brought me to explore more ways to wear it. My love for joggers was instant and I had so much fun outfitting looks that not only represented my style, but opened doors for your creativity as well. This edgy look is one I love – proves joggers extremely versatile.
denim | strap heels | handbag
This top served a main inspiration for my Spring capsule. Tho no longer available, I love the introduction of florals in the Spring and more so, paired with an everyday pant, such as denim. The perfect transitional look.
sweater dress | white blazer | snake print mules
This dress – oh this dress. It's sleek, sophisticated and comfortable. Pair it with a blazer and mules for a chic 9 to 5 look.
kimono | denim | sandals | tank
One of my favorite transition looks. I love the floral print and ease of being able to take the kimono off or put back on depending on weather.
striped blouse | white denim | day loafer mule | straw circle bag
I explored white denim a little further this year. I discovered Everlane and love that their pieces are sustainable, ethical, and timeless.
dress | sweater blazer | sneakers | tote
Are you sensing a theme yet for 2020? I chuckle knowing I took the dress down literal. Pairing dresses with casual items like sneakers and a sweater blazer is something I do often. It's comfortable, yet still allows me to feel put together.
blazer | denim | striped shirt | kitten heel
Another completer piece I grew extremely fond of – the black blazer. It's a jacket that takes you from casual to chic instantly.
blazer | white maxi dress | leopard mules | transport tote
This look may not have reached Instagram's top 9, but man – it sure tops my favorite list.  Heavily inspired by @natalieborton, I love the creativity it brings. It's one of those looks I saw and instantly wanted to re-create using the items I held in my own closet. It's feminine, classic, and one I'd wear everyday if I could.
Tho my dress share exceeded new levels this past year, I couldn't pass up this $10 Target find. Ya'll know my love for leopard, and a shirt dress is one of the most versatile pieces one can have in closet. I cannot wait to repeat this look once it warms up a little!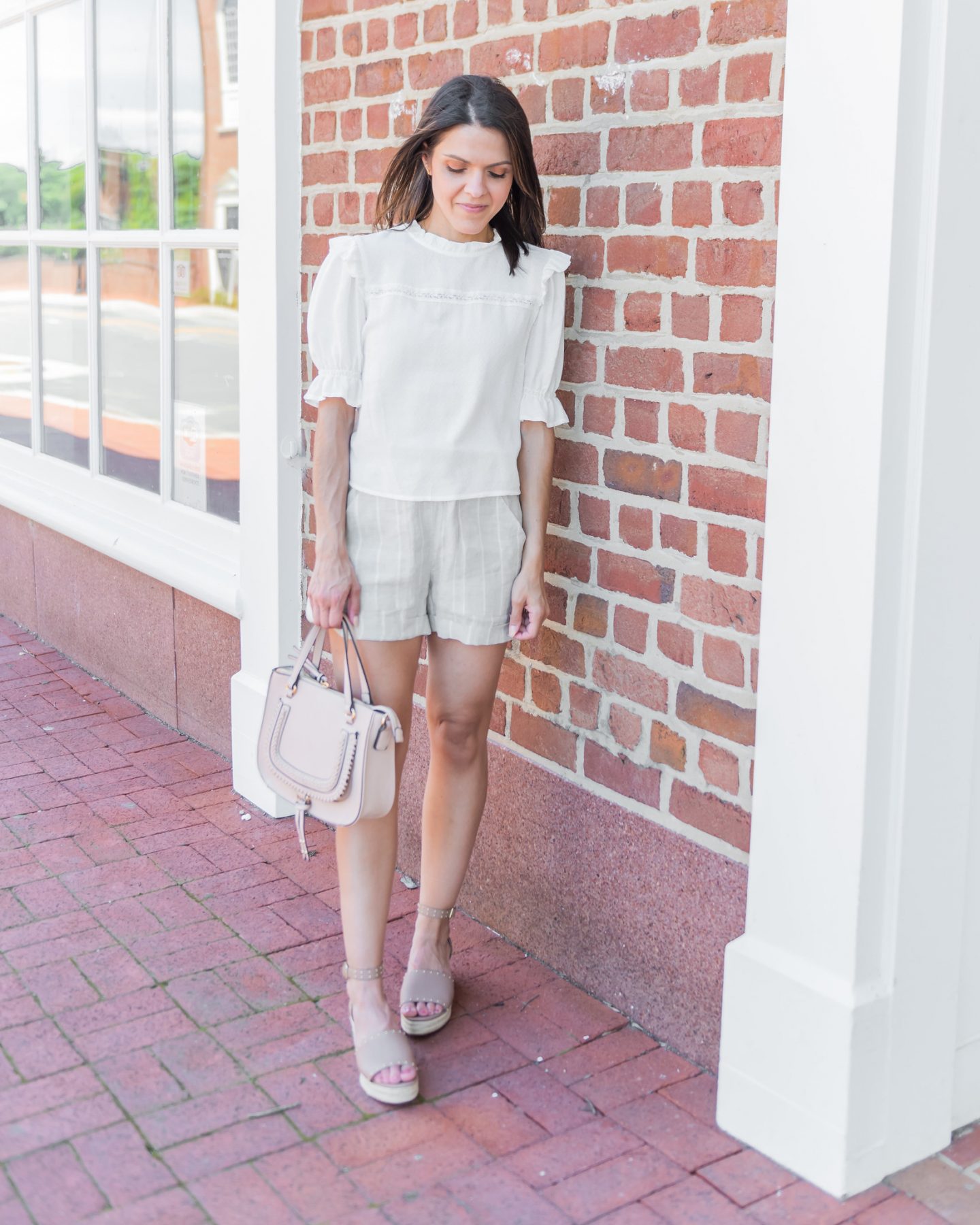 eyelet top | shorts | espadrilles | handbag
I styled this feminine look for another Allume feature in July and am still swooning. Inspired by the eyelet top, this look is romantic, and feminine. Pull together these neutral Summer essentials for brunch with your friends or a casual evening out.
short sleeve sweatshirt | bike short | birkenstock's
I gave into the 2020 bike short trend and haven't looked back. Silly as it sounds, the idea that one can wear bike shorts other than on the bike was mind blowing. I won't disclose how many pairs I have now, but this casual trend is one I don't mind jumping on.
blazer | bodysuit | denim | block mules | tote
This blazer. Oh the plaid blazer. A definite favorite amongst all of you and me, alike. Paired it with Mom jeans and a simple bodysuit for a chic errand look.
cardigan | striped tee | black denim c/o | boots | tote c/o
I discovered ABLE this past year and love every part of the brand. It's ethical, transparent, and one I am so proud to advocate for. Love this look from head to toe.
babydoll dress | boots | camera bag
Another fave Target find I cannot live without. Love the color, print, and ways of wear it offers.
---
There you have it – my top 20 outfits of 2020. This past year may have been the year of loungewear, but that didn't stop  the evolution nor change my take on casual style for one second. I look forward to seeing what 2021 brings and the style that evolves from it. As always, thanks for stopping by!
xoxo