I never understood the hype of the trench coat, until I owned one myself. It was one of those pieces I'd known labeled classic, but had never questioned why. What made this iconic trench coat essential? Why did every wardrobe google search deem it a must have? Was there really a need for one in my closet?

While I've held a strong interest in fashion for years, done my fair share of research in terms of style – I've always gone by the industry standard. That set list of items, supposedly the building blocks of a well rounded closet, served as the foundation in most capsule builds. Many of which I am extremely proud of.

My style has no doubt changed over the years. Thru experience, I've learned my likes, dislikes and have taken different paths exploring it all. Fine tuning my closet and learning the value of an invested one, I've come to realize it's completely okay to question your current process. You are allowed to establish your own set of rules and standards when it comes to your closet. And the latter, you can still side with those already in place. Learning reason and labeling pieces essential on your terms curates an individual and well rounded fashion sense.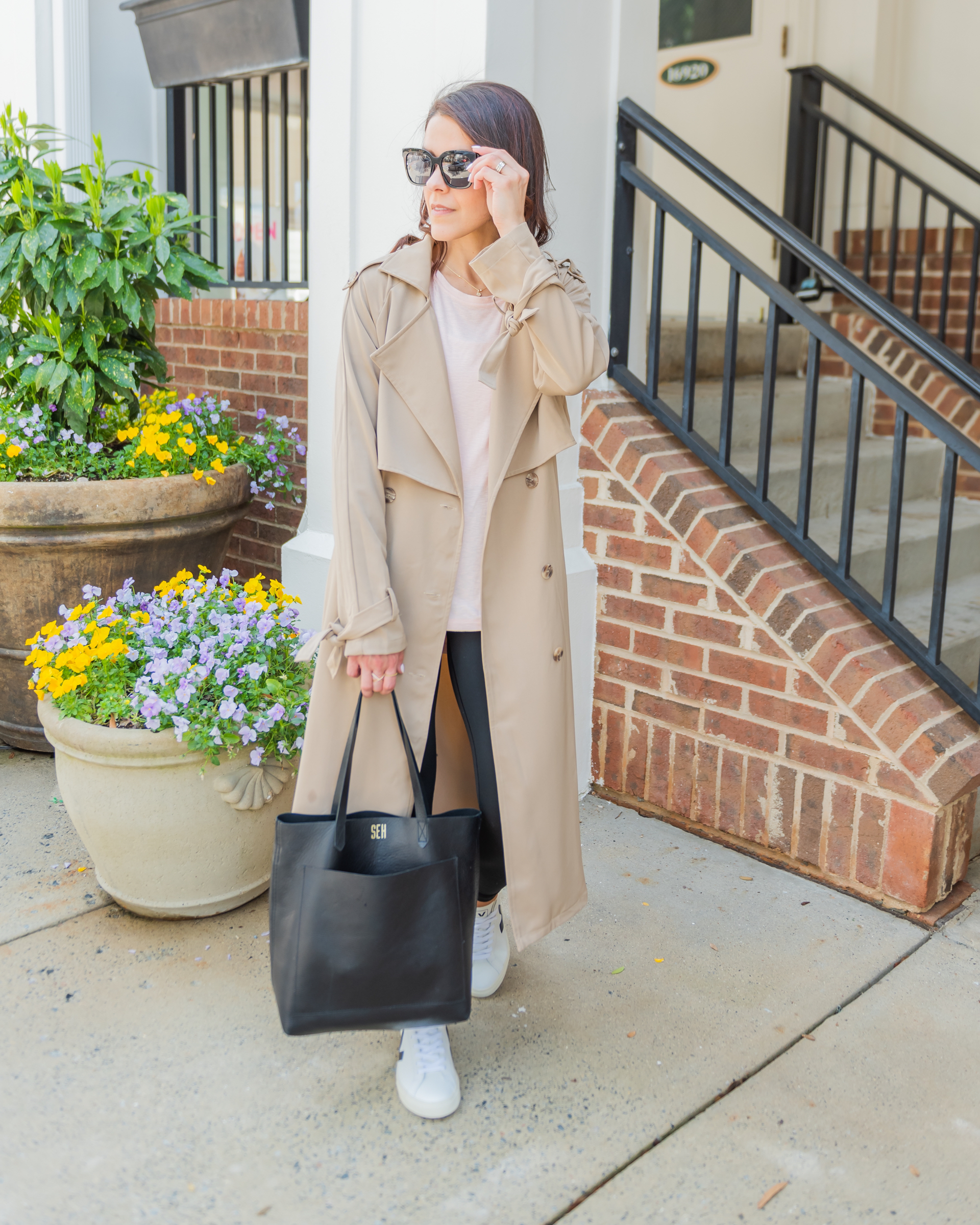 So, the fashion world lists a trench coat essential. But my end all reason for buying one wasn't based on these industry standards. I wanted to determine it essential on my terms. I styled it, wore it, noted how I felt in it. And truth be told, it's the coat I never understood I needed. Siding with many, I too have labeled it essential. Here's why:

It's practical. The comfortable and practical design of the trench is what led to it's origined popularity amongst soldiers during and after World War I. The Military loved the dribble, water-resistant fabric that was able to protect them from the harsh weather. Known for their double-breasted silhouettes, belts, wide lapels, epaulettes, storm flaps, pockets, and back vents for ease of movement, it serves practical.

I may not serve in the military or trample in the trenches often, but I am still a Mom who seeks out a layer when mild weather conditions do arise. The trench is great in rainy or windy weather, and works well on cooler days simply by adding layers underneath.

It's timeless. Can you think of another item that has changed less in the last 50 years? I can't either. I don't see it going out of style anytime soon.

It's versatile. It goes with everything. I honestly, without a doubt, cannot think of an outfit that it would not go with. Over a dress? Trench. Over jeans and a tee? Trench. How about over my elevated athleisure? That, too. The only time I'd opt anything else would probably be in the dead of Winter when I've designated gear or in the heat of Summer, when layering is not needed. It's not even technically Spring and it's been on rotation for a solid three weeks. If I wanted to wear it everyday, I could.

It compliments items in my existing closet. Before this shift in thinking minimal, I'd purchase pieces solely on the like aspect. I told myself if I liked it, I'd find a way to make it work. While the swoon is a key factor(noted next), I've learned over time that my closet's value does not increase just because I liked something, bought it, and now own it. It has to compliment my existing closet. If I can envision ways I am going to wear it with items that exist in closet already, then it's suitable and will serve purpose. Knowing how versatile the trench coat really is, checking this box was a breeze.

It establishes confidence and I feel good wearing it. So it's practical, timeless, versatile and fits really well in your closet. But if you don't love wearing it, maybe it's not for you. There is nothing worse than purchasing something and getting zero wear out of it. Nine times out of ten (at least for me), the reason something hangs in closet is often due to how I feel when it's on. If it's unflattering, the fabric is itchy, I feel frumpy, or any middle ground feeling surfaces, I pass.

The trench is one for I reach for often – because I feel amazing in it. It's chic. It's classic. It's stylish and it makes me feel extremely happy. Now that may be a little extra, but nonetheless, it's essential.
[show_shopthepost_widget id="4704813″]
---
Now that we've established why it's essential, let's visualize how to wear it this Spring. Throughout this post, I've shared four ways that I've worn it thus far. Below I've put together another six outfit ideas for you to source this season. Happy styling!