Have you ever thought of the origin of clothing, more so their titles? Did someone so much as jump excessively to title their day's wear a jumpsuit? What type of romp deemed a romper? Blazers aren't necessarily hot in temp. Kitten heels most certainly do not 'Meow'. And this military wife sure knows that the 'Mess dress' is far from messy. Which brings me to a comical realization – we don't always jog in joggers, do we? They're more considered casual, and not exactly ideal for a full on workout sesh.
---
For anyone curious and before I style our topic'd joggers, I did a little research and got to the root of style on these questionable garments.
I discovered the original jumpsuit is the functional one-piece garment used by parachuters. (Who knew?!)
The original concept of a one-piece garment (or a shirt attached to shorts) was applied to children's clothing. The garment was titled the romper to associate it's wear with outside play.
Bright red cloth jackets worn by members of a Cambridge rowing club stemmed the Blazer.
Kitten heels were introduced as appropriate heels for the younger set and were even referred to as "trainer heels" for kittens, aka young girls not ready for grown women's high heel stilettos.
Contrary to what I'd associated with 'mess dress', it's named such because of where formal events are held – often in the Mess Hall.
And joggers? Well, they were originally purposed for exercise! Jogger pants were designed as a cold weather sportswear option. They hold a tapered pant and are meant to fall just above the ankle.
---
Now that we've all been educated, let's dig a bit deeper into styling, shall we? The jogger really is a fun piece to style. It's versatile and available; You'll find a variety of styles in optional fabrics across the board. Today's style session shares 7 ways to style joggers. I chose to feature two pairs – one a traditional sweat and the other a cargo style. In styling both of these below, I found the choice of fabric or style, irrelevant. The jogger may be categorized casual, but all can be dressed up easily. Their group may be off and title a bit odd, but they certainly suggest creative style and are extremely fun to wear!
The first set of outfits below feature a relaxed cargo pant from Abercrombie. For sizing, stick to your true size. I am wearing an XS short. Scroll further and you'll see me style an affordable (and beyond comfortable) pair of joggers I purchased off Amazon. They're offered in a variety of colors and fit TTS. If you'd like to recreate any look, I've linked items shown for a convenient shop.
---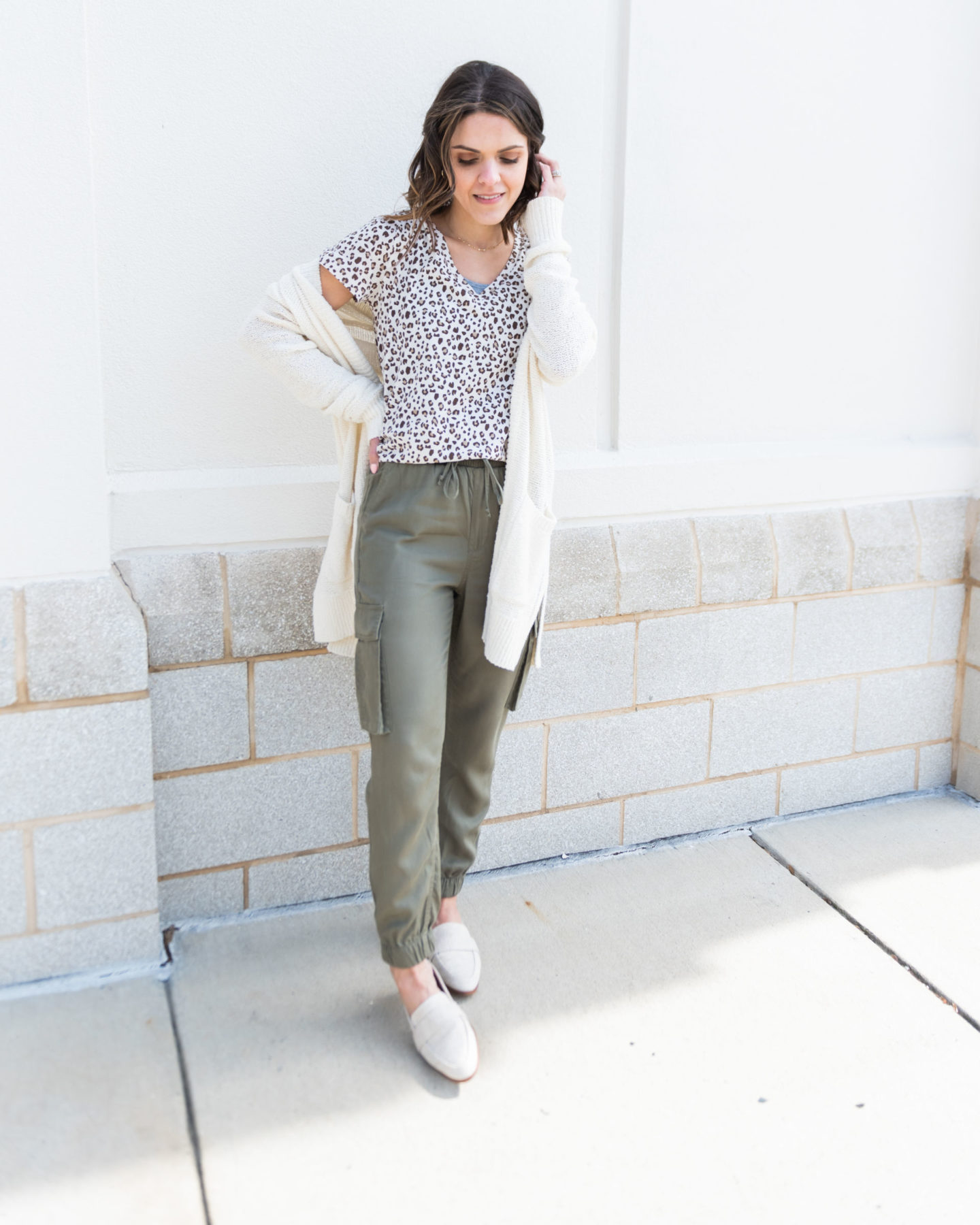 cardigan (duster) | leopard tee | mules

tie waist tee (similar) | gladiator sandals (similar)

pink popover blouse (similar) | fold over clutch | pumps
white blazer (similar) | black bodysuit | heels (similar) | black blazer | grey bodysuit | kitten heels
leopard sweatshirt | mules | colored sweatshirt (similar) | sneakers
denim jacket | striped tee | leopard mules (similar)

leather jacket | white tee | sneakers
---
Wether you style joggers for their intended purpose or dress them up, I hope you see the versatility in these fun pants! If you enjoy seeing 'ways to style' your closet favorites, check out all my other style sessions, here! As always, thanks for stopping by today!
xoxo