Ooh, it's that time again! While I've shelled out more focused capsule content the past 6 months, I get really excited for the larger seasonal builds. There's just something exciting about planning and visualizing a cohesive wardrobe that will last me an entire season.

Prior to my Fall capsule debut, I featured the principal items that made up my season's wear. I created several Ig reels, shared ways to wear each individual piece and published a two part series here on the blog. This season I thought to do something similar. If you're following along on Instagram or Tiktok, I am breaking down several Spring pieces in a Spring Closet Essentials series. I've featured 4 key clothing items thus far and plan to spotlight a few more before end of month.

But you didn't think I'd stop there, did you? In true TSS 2022 fashion, I am digging niche deep. On top of the Essentials series, I thought it might be neat to share my Spring capsule checklist. While the process of a build can take time, my initial start always begins with a categorized list. For any of you looking to build a functional capsule wardrobe this season, I've outlined below a place to start! And for those capsule newbies (or anyone needing a 101 refresh), my 'getting started guide' is here for you, too!

Naturally, each season requires specific clothing and every capsule differs depending on lifestyle, location, and style preference. I've found, however, that starting with a checklist – even if it's a broad one – ensures a balanced build. No matter the season you're in, your closet only goes so far with 20 tops and only a handful of bottoms. Am I right?

More so, as you fine tune and discover what works (and what doesn't) in your current closet, the narrow down and delegation process will get easier. If you've an attachment to any sentimental pieces that somehow don't fit, the let go becomes quite natural! Working the checklist from the get-go, ensures each item holds purpose. And at end, a wardrobe you cannot wait to wear!

Today's Spring Capsule wardrobe checklist outlines 11 categories and the number of clothing items I typically include for each. I also link examples that I am planning to use this season.
---
Spring Capsule checklist
tees (4-5): The number of these can change depending on preference, but I try to stick to one white, one black, one neutral (cream, beige, or gray), and one graphic. You can do a lot with these basics and even utilize them as layers. Pick your favorites that you wear most.

tanks/bodysuits (3): Not only do I like to wear tanks and bodysuits alone, I love to layer them. This season I've included a few different styles to utilize their wear. A high neck tank, and these seamless bodysuits are on repeat.

sweaters/cardigans (4-5): Spring can have unexpected weather. I like to ensure I've option for layering, so I've quite a few listed in this category. To give my closet variety, I make sure each sweater I include is slightly different in style, texture, and color. Right now I've both crewneck and cropped sweaters, a striped chunky knit pullover, a pastel colored cropped cardigan, and a long pocket cardigan.
tops (4): Tops, in my opinion, are what change most from one capsule to another. Simply put, you aren't going to be wearing a waffle thermal turtleneck in the Spring. (who knows, you might..but it's highly unlikely). This is the category that allows you to adapt to the season. You can bring creativity into your closet by utilizing prints, colors, and lightweight textures. I love to wear tops that hold floral prints, ruffles, and feminine details.

I'll note, balance is still key. Be sure to include some good year round basics – a white button up and chambray top are great examples that ensure this category is well rounded. I typically assign one blouse (several linked here), a colored long sleeve henley, a button up chambray shirt, and an oversized white button down.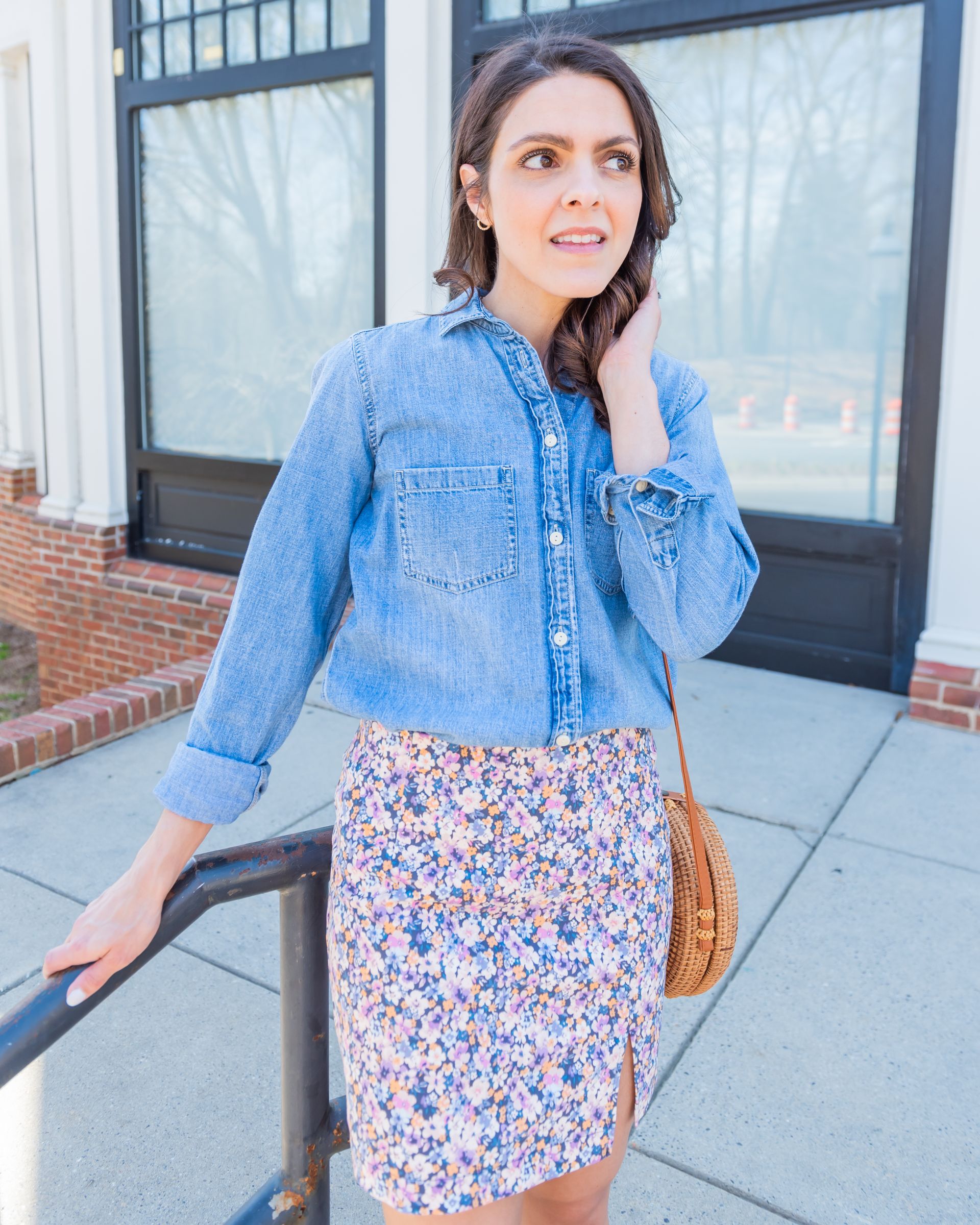 leggings (1-2): At least one pair of leggings is a must. I typically end up with two. The faux leather leggings allow for more dressier fits and my Align leggings work well on days I stick strictly casual.
jeans (2-3): One white, one light wash, and one optional light or dark wash. As for style, it's up to preference. I typically wear more light wash jeans in the Spring and have a newfound obsession with Agolde denim.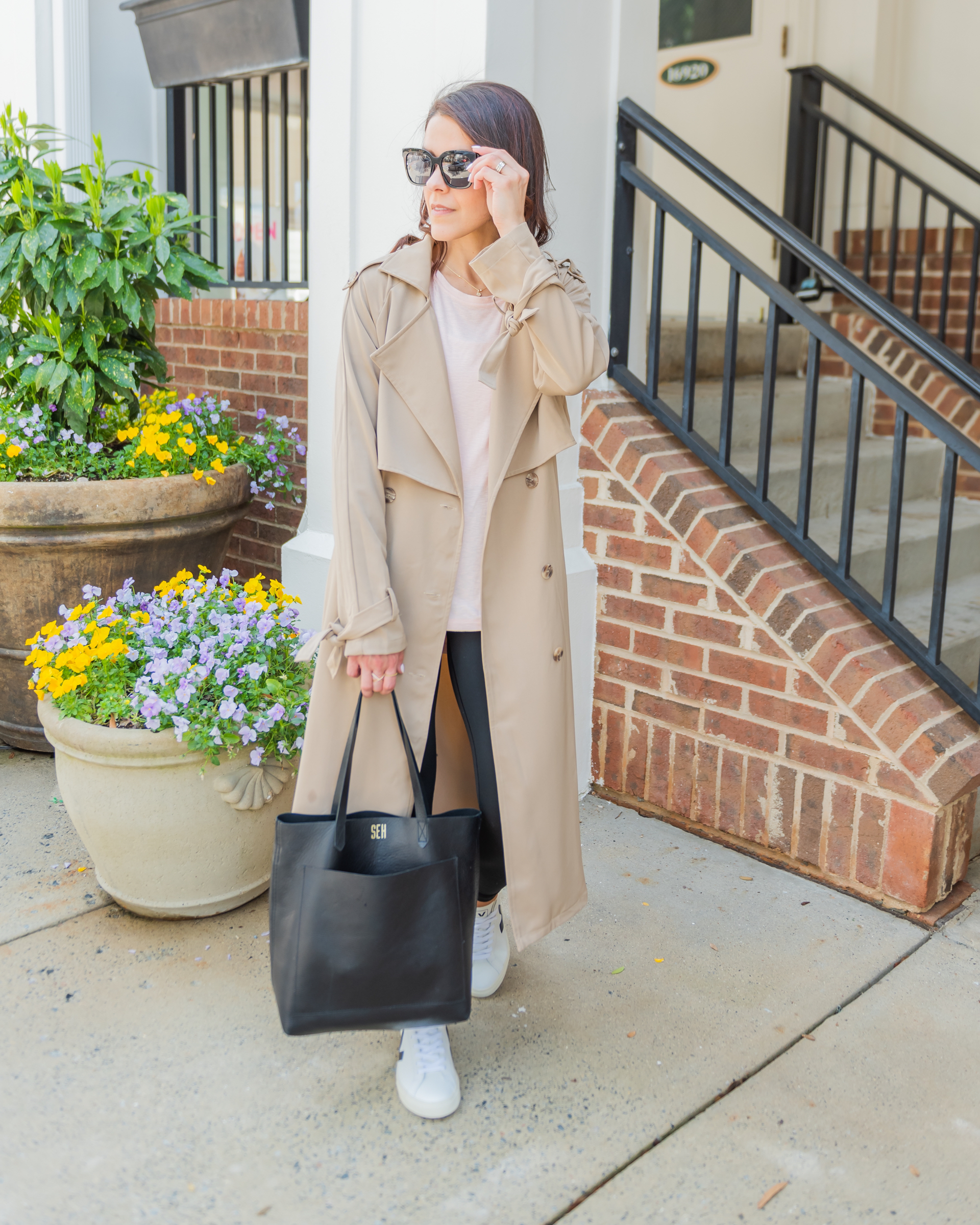 pants (3): While I love denim, a good pair (or three) of pants is essential to ensure you've proper dress code for any day of the week. On list I've these khaki wide leg trousers, black pull dream pants, and my favorite pair of joggers.

shorts (1-2): Depending on where you live, shorts can be on or off the table. Living in NC, I like to include at least one pair of shorts for warmer days. I've my favorite pair of denim shorts and a pair of linen shorts on queue.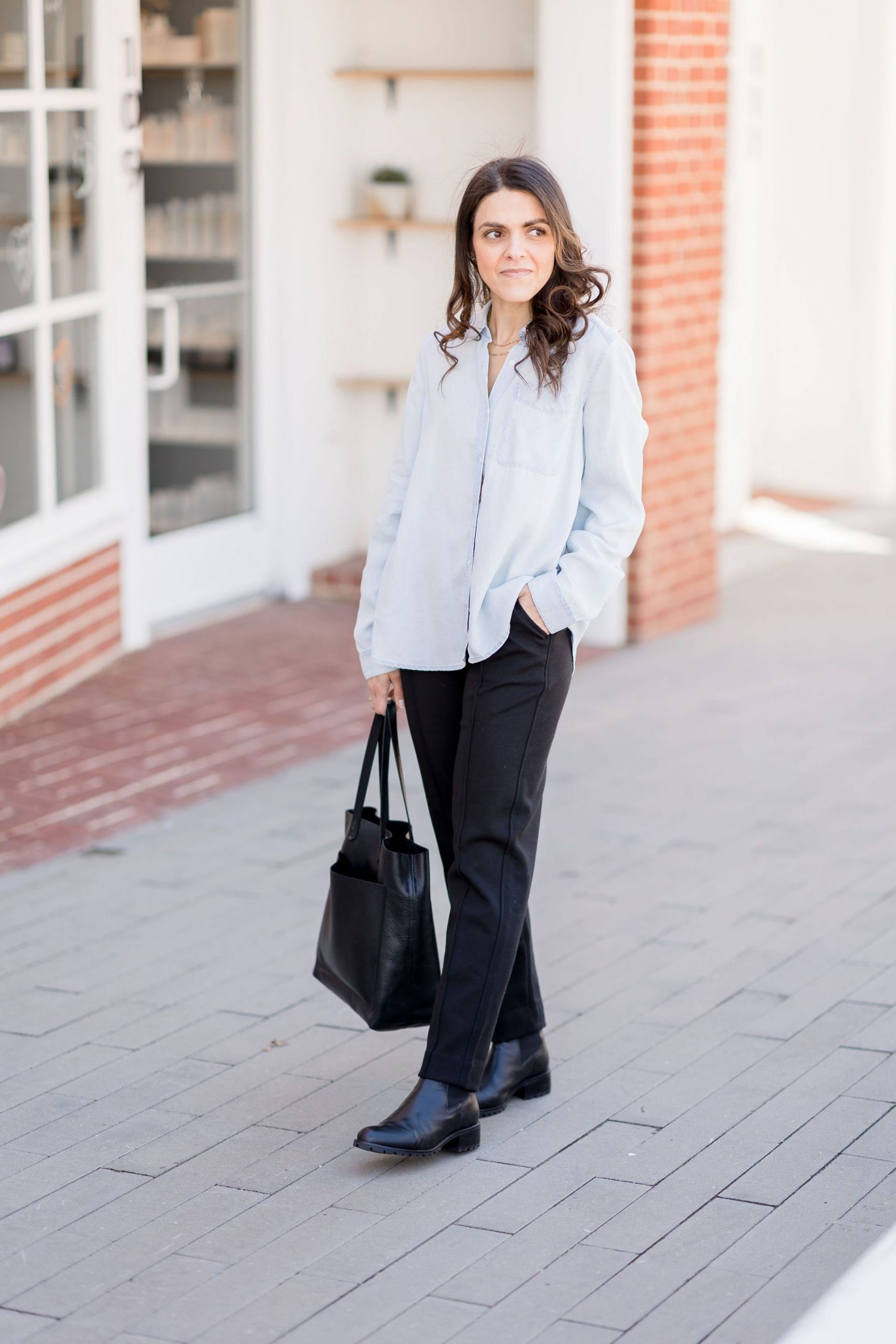 dresses/skirts (2-3): I am a girly girl at heart, so including dresses and skirts in my Spring closet is a given. I typically double the number and end up with 3 or 4. But if I were to really narrow down selection, I'd ensure one dress, and one skirt. One would be a solid neutral color (skirt or dress) and the other would be printed (skirt or dress). If I've room, I'll include a jumpsuit – there's nothing like a one and done fit on busy days.
outerwear (4): Your preferences and local climate will determine the right outerwear for you. Of course you want to ensure you've the right layers for whenever and wherever. I like to have one utility, trench coat, denim jacket, and a neutral blazer on constant rotation.
shoes: While I made the decision to exclude shoes and accessories in my capsule shares, I'd be amiss if I didn't share the need for a good pair of white sneakers and a solid flat. Both go with everything in the Spring. I wear these sneakers all the time and opt for Rothy's when it comes to comfortable flats.
Hopefully this Spring checklist will source as a good starting point this Spring. Stay tuned for the big Spring '22 capsule reveal, set to go live early April!