The 2020 Nordstrom Anniversary sale is underway and unfortunately, items are bound to go in and out of stock. Many of which already have. I know, public access hasn't even begun. It can be frustrating. And tho I've heard there will be restocks, they're sadly not guaranteed. Just as I shared in my recent Top NSALE preview picks post, "What's meant to be, will be". I have to remind myself that it's completely okay if I don't snag that Free People sweater or those adorable Steve Madden mules – other retailers will offer similar trends later. While the sale is a great time to grab Fall items at discount, it's not the first time (nor last) that you'll see these trends in play. If anything, it gives you a glimpse of what's up and coming. And when you start to see dupes pop up, that's a good indicator those items will be all the talk come next season.
My Nordstrom Anniversary Sale dupes post last year was a top favorite, and having asked ya'll your interest in creating similar this year – I received an overwhelming YES. So, the deal finder in me went to work! Those dupes I mentioned? Oh there out there .. They've more affordable price points and are available now!
Whether you've missed out on items from the Nordstrom sale, you've decided against shopping this year, or you love the trends but prices are not within budget, todays post will help!  Today, I am sharing the best of the best 2020 Nsale dupes! I've gathered tons of duplicates to items in the Nordstrom sale that have or are bound to go out of stock, or are offered similarly at a lower price point. You've choice to splurge (if available) or save! The majority of these dupes can be found on Amazon  and Walmart – both sources we know convenient, year round, and affordable!
---
While the Nordstrom sale offers some amazing deals, they're featured as the splurge price in today's post. All items on top are Nordstrom items, while those below are the alternatives. I'll note that several of the Nordstrom sale items are out of stock, tho I've still included a link for you to click on, in case it comes back in stock whilst in the duration of the sale. All save and splurge options are linked in the widget below each image. Happy shopping!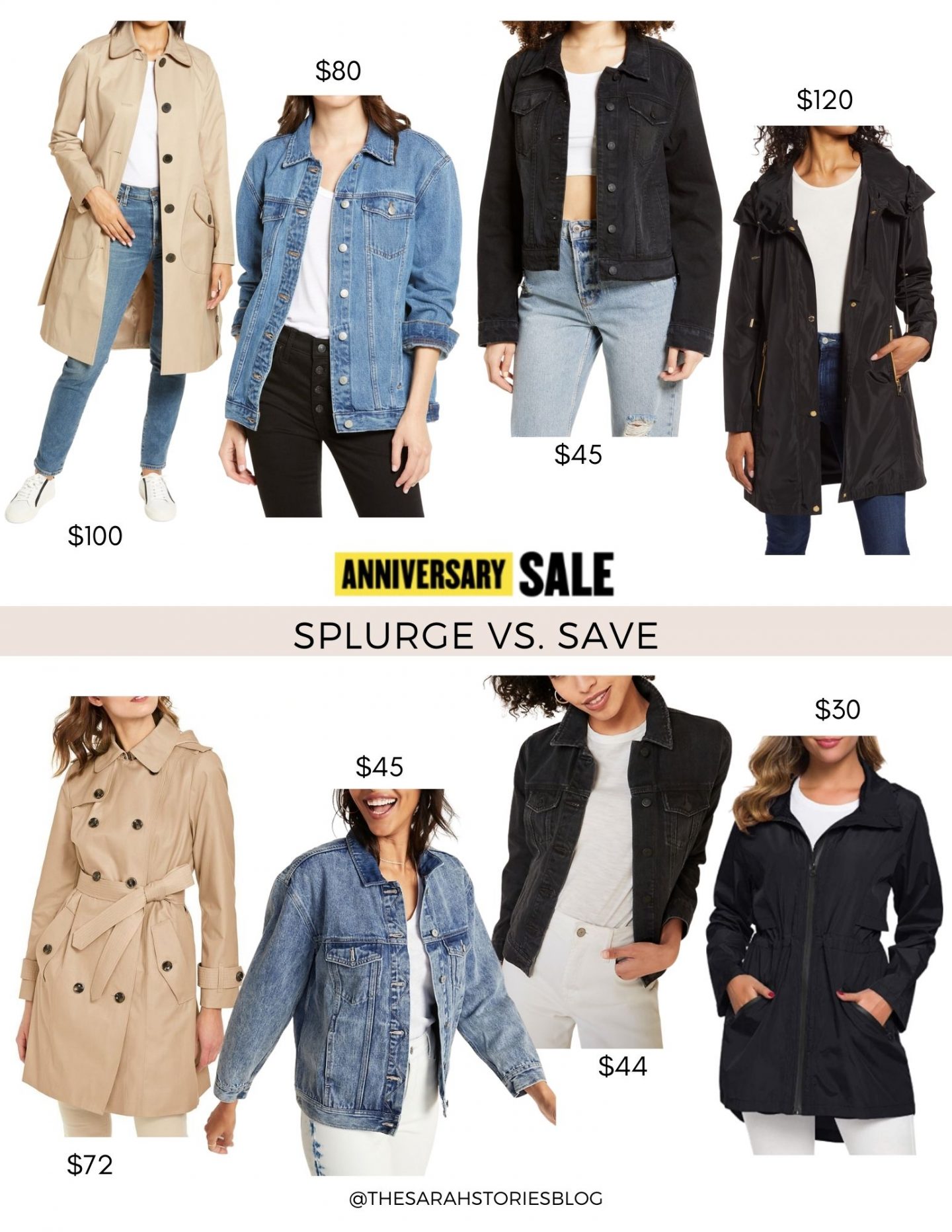 [show_shopthepost_widget id="4139193″]
Of all these outerwear alternatives, in truth – I'd opt for the save! These finds are nearly identical, and half the price. I feel the Nordstrom prices reflect brand as well. If you aren't too particular about name brand items, you'd score big with the alternatives. The only exception would be the similar price for the black jacket – this buy would be on brand preference.
[show_shopthepost_widget id="4139204″]
I'll be honest and say the hooded leather jacket is a style I love, but finding a nearly identical option on Amazon for half the price, convinced me otherwise. And I've a nearly identical camo utility jacket in closet from 2 years ago – so finding an alternative to the Nordstrom style option was a piece of cake!
[show_shopthepost_widget id="4139243″]
Here is where you'll see next season's trends come into play. The leopard bomber jacket is extremely popular (well – leopard print, in general, has been trending for a while). Opt for the J.Crew option and know you'll be purchasing insured sustainability or try the trend for less on Amazon!

[show_shopthepost_widget id="4139265″]
Ya'll, my mouth dropped when I found this tweed jacket for $23. It may not have the fringe on the sleeves, tho it's a great option to achieve similar style for less!


[show_shopthepost_widget id="4140905″]
Denim is a hard one for me. Ya'll know my love for name brand denim and that I am willing to spend a little more for quality. That said, the alternatives to some of the higher priced pairs are equally as good. I have both black distressed pairs and find them equal in quality and comfort.

[show_shopthepost_widget id="4139301″]
If I were to advise any purchase from the NSALE, it would be the SPANX faux leather leggings. I've shared umpteen ways to style these favorites here on the blog and still believe they are worth every penny. Now, I haven't tried the Zella leggings, but love the affordable Amazon option so much, it would be silly for me to justify spending more.
[show_shopthepost_widget id="4139321″]
My thoughts on shopping sweaters – unless you are purchasing on sustainability (ie cashmere, wool), I'd opt the more affordable price. I personally have the first mock neck knit sweater (shown in my 'about me' section above!) and love it. I often don't purchase sweaters from the sale unless they're higher in quality and on an extremely good discount. Don't sweat it if sweaters go out of stock early; You can almost guarantee alternatives, in a variety of colors, elsewhere.

[show_shopthepost_widget id="4139346″]
This long sleeve printed tunic dress style is becoming very popular, and the alternative has been available for a while! Unlike the Nordstrom option, this $23 dress is available in several color options! As for the other tops, these I'd opt for the alternative on all! I feel all of these can be found at other retailers easily.
[show_shopthepost_widget id="4139383″]
I personally own the Target version of the Moonlight Pajamas and love them. Beyond comfortable and affordable! I've also the leggings, slippers and blanket dupes as well and find them all great options if staying within budget!
[show_shopthepost_widget id="4139412″]
With all of these boot alternatives available now, it definitely eases any stress regarding low inventory levels. The choice is up to you!

[show_shopthepost_widget id="4139429″]
What kind of blogger would I be if I didn't include some animal print dupes to the mix? Clearly the animal print trend isn't going anywhere for a while. Again, choice is up to you on how much you're willing to invest!
---
Hopefully this helps take the stress out of your 2020 Nordstrom Sale shop! If there is anything specific you've seen go out of stock that you had your heart set on, I'd love to help you find an alternative! Comment below or DM me on the gram! As always, thanks so much for stopping by!
xoxo