I'm part of the lululemon Collective and will receive a commission if you make a purchase through the links below.

A few months ago, if you'd asked me my favorites from lululemon, I wouldn't have had much of an answer. I had one pair of Align leggings that I loved, but hadn't yet explored much beyond that. In truth, it's always been a bit intimidating and I hadn't ever explored the brand's offerings. I'd heard so many great things about their their half zip scuba hoodie and so out of curiosity, I decided to treat myself. I gave into the hype and added it to my lululemon collection. And that my friends, started it all. My love for lululemon grew tenfold. The hoodie piqued my interest to try other 'on the move' items, explore more of their Align™ collection, sweat test tights designed for training, and then some. It spiraled into a proud obsession. The quality is exceptional, their mission is inspiring, and community, involving. Today's post shares my top lululemon favorites.

Whether it be training on the bike, a morning run, everyday errands, lounging at home, or an evening yoga session, lululemon has and will continue to be part of my everyday fit. I honestly wear lululemon everyday! They've a vast majority of items, each designed specifically for an activity. And seeing that their pieces are designed with such purpose, I've narrowed down my top picks for each line of movement.
Everyday on the move
Ebb to Street tank – This tank is extremely comfortable. I love the ribbed fabric and the built in shelf bra for added support and coverage! I've worn it out running errands, or just lounging around at home.

Instill tight – These tights feel buttery soft like the Align collection, yet hug your body like the Luxtreme fabric does (found in my favorite medium impact sports bra). I love these for yoga and everyday. So soft, comfortable, and hold everything in.

Everywhere belt bag – I haven't always been one for a belt bag, but after purchasing this cute essential, I was sold. I love being handsfree when out and about. It's roomy enough to fit my phone, keys, chapstick, and even a small wallet! Available in a ton of colors, too!
Align reversible bra – When I am not doing a high intensity sweaty workout, this is the bra I opt for most. It's designed with the same signature Nulu™ fabric used in the Align collection – buttery soft and weightless. I also love that it's reversible, so it gives you two different looks!

Scuba half zip hoodie – This is the piece that started it all. It has a cropped, stylish fit and is incredibly soft. With an oversized fit, a cozy funnel neck, thumb holes for comfort and breathable fabric – it's hard to take off once on!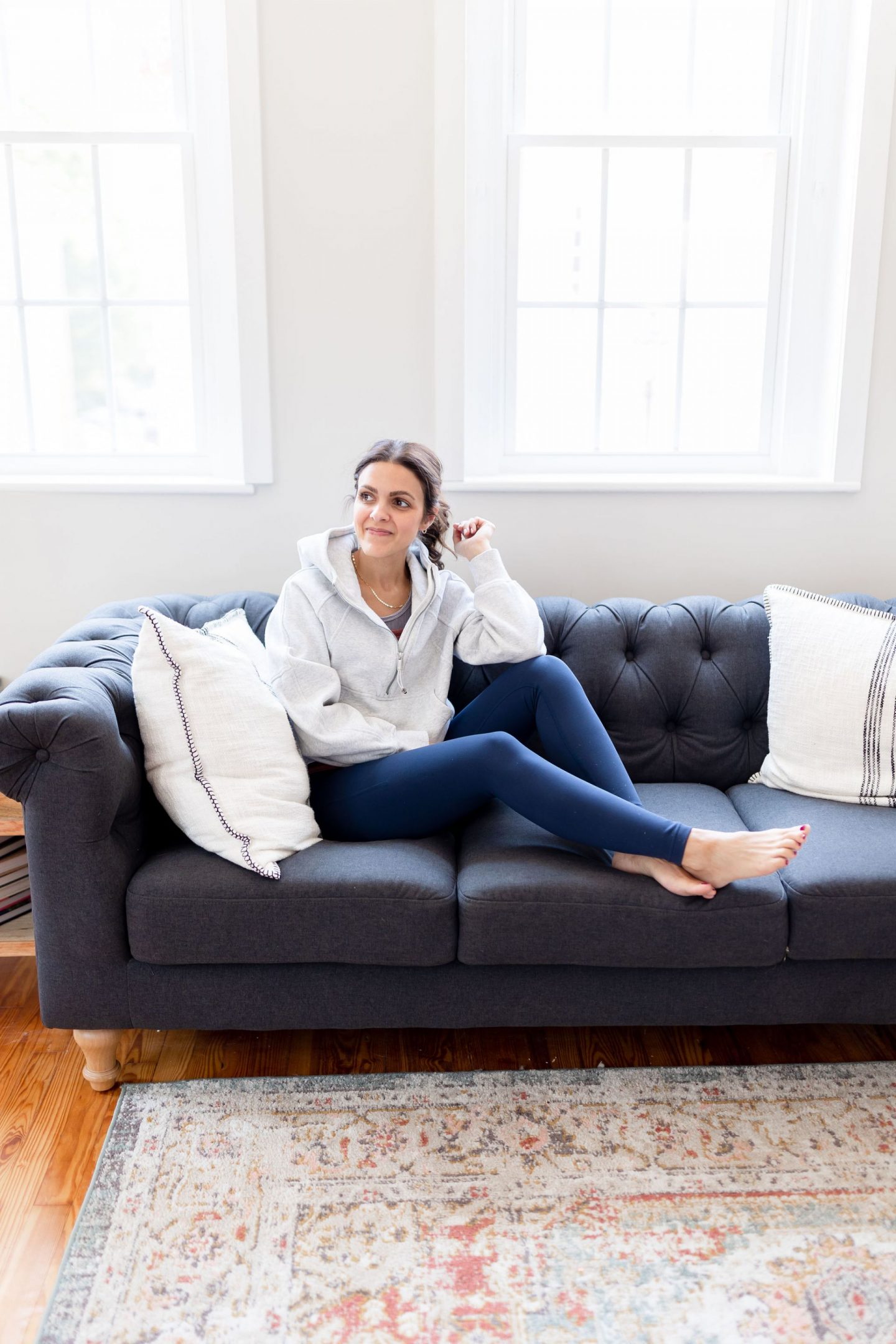 Yoga
Align leggings 25″ – lululemon is known for these favorites. They're buttery-soft and feel weightless on! This entire collection is great for low-impact workouts like yoga, or whenever you want to feel really, really comfortable.

Like a cloud longline bra – This is a bra that I love to wear from practice and beyond. It's made with marshmallowy-soft foam cups and the softest fabric. I love the crossback detail and the longline fit – makes me feel like I am wearing a tank, rather than a bra.
Training
Wunder train tight – My absolute favorite tights for sweaty workouts! I use these on the bike, for running, Bikram yoga, HIIT training workouts and beyond! The Wunder train collection is made with their Everlux™ fabric that is highly breathable and sweat wicking. It also drys incredibly fast so you feel less sweaty during and after your workout! I also love their 6 inch short, and 23″ cropped tights!

Energy longline bra – When you find something you love, you buy it in every color right? Most of my workouts involve medium to high impact movement and this bra is my top pick! I love the cross back detail and overall support. I prefer the longline style, as it sits past my ribs, but they've a regular fitting Energy bra, too that equally does it's work!

open back training tank – Even tho I workout at home, I am not one to wear a sports bra alone. I like to layer with a tank or some sort of top. This training tank has a back cut-out for ventilation and aligns with my need to layer. Looking on site, they may be phasing this favorite out. That said, I've the sculpt cropped tank saved to my wishlist!
Thanks for stopping by and reading! I hope you found something to favorite as much as I do! For a full list of my faves, head here.
xoxo, S