My mom had a rule when growing up. It was most prominent around back to school shopping, tho it stood strong none the less. If I didn't wear a piece of clothing within three weeks of purchase, it was taken back. No exceptions, no "I'll wear it tomorrow's"..it was returned. I now know and understand her reasoning. Yes, the value of a hard earned dollar went into play, but I believe she held a good principal otherwise.  This rule stressed the importance of choosing pieces that make you feel good in your own skin.  Why would you buy something if you don't want to wear it? If it's been three weeks, and it's still hanging in closet (or still in plastic) with tags attached, there's an undermining reason as to why it's there.  Maybe you bought it out of spite, maybe it was the result of some retail therapy, maybe it's because it was on sale … nonetheless, rid yourself the closet conflict and adapt a new rule of reasoning; If you don't love it, take it back.
Yes, my point to this post is to share my most favorite fashion buys of 2018, but I want to stress the reason as to why they fit in this category – they all make me feel the best in my own skin. They all were taken straight out of package, off the rack, purchased and worn within days because I feel good in them. All have turned closet staples and all are worn A LOT.  And tho this post is slightly overdue, seeing that it's end of January, I know that these pieces I invested in will continue to be favorites and rise to the top of my wardrobe list. So, without further ado – here are my most favorite fashion purchases in 2018.
*click on the image below to shop the product from the retailer's page*
[show_ms_widget id="36015018″ image_id="41879162″ width="616″ height="797″]
Faux fur coat
I needed a new coat. All my others were 10+ years and tho they've proven great closet staples, none were warm enough for NC Winter weather. This coat is extremely warm. I love that the fur lined hood is detachable, proving versatility in the Spring. When your new coat is seen more on you than the closet hanger, you know it's a keeper. I waited out this spend, and purchased this piece on Black Friday discount, tho I would willingly pay full price. The value of wear far exceeds the price.
Aerie Oversized Chenille turtleneck Sweater
I laugh as I type this, knowing you all have seen this sweater numerous times on your feed. #sorrynotsorry This sweater was my very first chenille sweater. Loving all things cozy, I have no reason as to why it took me to long to purchase such comfort! Long enough for leggings, and thin enough for a front tucked look, this sweater proves versatility. Offered in 5 colors, and now down to $29, it tops my affordable fashion list.
Vince Camuto Pevista Booties
I may have a slight obsession for booties. I am going to state tho, I believe this pair initiated that obsession. I grabbed these ankle booties in the Nordstrom Sale and fell in love the second I put them on. Comfortable, fit TTS, and just the right amount of height.
Hudson Barbara High Waist Skinny jeans
This premium pair was a splurge, but worth every penny.  Tho I have a few pairs of premium denim in closet, I felt compelled to justify the spend. I went thru a visualization process beforehand –  piecing together outfits of what is in closet already with the potential purchase. If it's more than a handful, it usually makes the cut. These did just that, and more. This Amazon Wardrobe find has proven an unbelievable fit, good wearability and a pair that I can wear anywhere.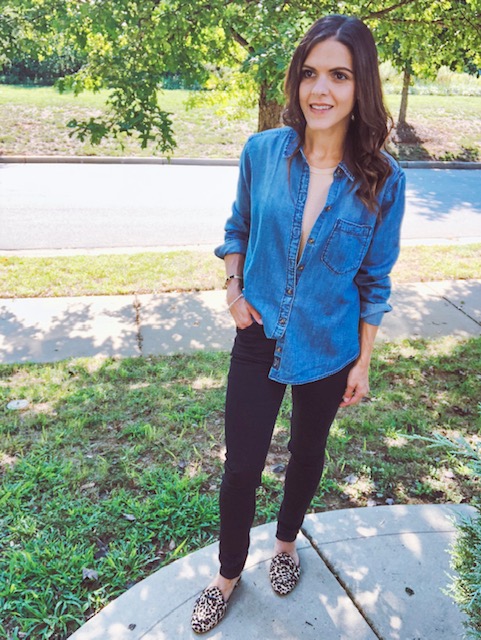 Influencer Sunglasses
My husband can attest to this – I am often one to loose sunglasses. Expensive, ones at that. 😬 But these – I've kept close from the moment they arrived. They are chic, casual, and comfortable all the same!
AE Highest Waist jegging
I've written about these favorites here. These truly are the pair I reach for on most days. I feel my best in them and have since then purchased a few other pairs with this same fit because of it.
Disc necklace
Back in July, I wrote and listed a few of my everyday essentials. This sweet disc necklace made the list, and continues to sit round my neck most days. I love the meaning behind it, and the overall story it tells. You can grab this personalized piece in your choice of metal.
Leith Ruched Body-Con Tank dress
I may be cheating a bit here in listing this piece, as it was purchased early January, but I had to include it as its been placed on permanent closet repeat. This dress is so unbelievably versatile. Check out my most recent post here to see five ways of wear.
Aerie Romantic Lace Plunge Bralette
For obvious reasons, I won't include a picture of this piece, but I will state I have this in all the colors offered. Being small chested, bralettes have been my bra type of choice for many years. I am not one for underwire, or push up. These are slightly padded, eliminating any visual proof of chill. They hold your girls in and the lace detail is subtle enough for a slight show on over the shoulder tops. By far, my most favorite bralette ever.
Knee high boots
The more I get down thru this list, the more it solidifies their spot on my favorites list. It doesn't surprise me that I've written on my love for these here. Tho this pair is no longer available, DSW holds a very similar pair, equally praised for it's look, comfort, and style. Go grab yourself a pair of knee high boots – I promise you'll feel amazing in them. My love for OTK boots has grown ten fold – these are also a top buy!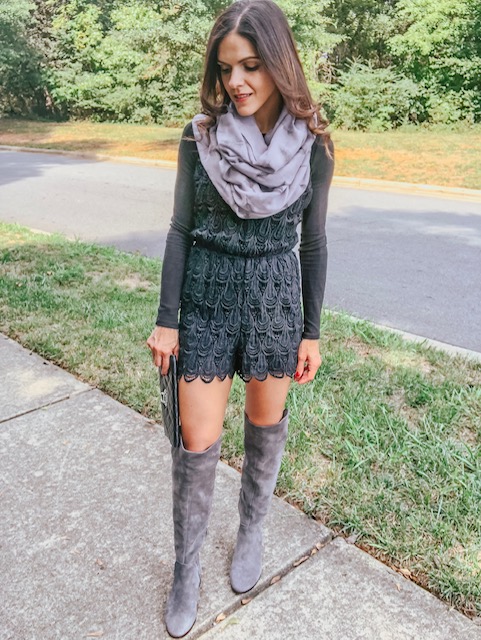 Chambray button up
Another staple that I missed out on prior to 2018. The question I repeatedly ask myself is, "where have I been?" If you do not have a chambray button up top, go buy yourself one. It truly is a piece you can style  year round.
---
So there you have it – my favorite fashion buys of 2018. I am sure I've missed a few, but all listed were worn way before that 3 week rule limit, and very much top my list of favorites from this past year. I'd love to know those that made your 2018 list! Thinking further, stay tuned for a "best of 2018" beauty post. I am already thinking of several buys turned repeats! Until then, thanks for stopping by!
SHOP THE POST
[show_shopthepost_widget id="3448694″]