Hi Friends! We've 8 days until Christmas. EIGHT! This month (and season, really) has gone by so quickly! In honesty, coming to my desk to type out the intro to my long over due Instagram round up today, I have quite a bit weighing on my heart. We are three weeks into December. The majority of shopping is done (at least for me) and presents are wrapped. I am sure many have attended Christmas parties, with a few left on calendar this weekend. But for the most part, we are in the final prep stages for Christmas day. Finishing up the last of my gift guide series was supposed to leave me with a sense of accomplishment, a sense of pride and a weight off my shoulders. But instead (I realize now it's by choice), my current reflection has me frustrated; high on doubt and defeat.
Sometimes, as I work out my emotions, it's often best written out. My ramble can often become tiresome (even to me), so I thought to share them by write. I've pulled them here in today's post to not only document, but spotlight my shift in perspective when frustration and thoughts in reflection arise. I know this topic widely speaks to those in a business, but this can apply to many of life's situations in general – outside our career, with our families, friends or any relationship.
It's been several weeks of going and going. Whether it's content, gift guides, sales and seasonal hustle. I've hit a wall. And how I know I've hit it is when I start to compare. If I've come to the end of a series or season or even year, reflection naturally takes place. And instead of being proud of all I've done, I start to reflect negatively. What I haven't done. What I haven't accomplished. What hasn't resulted from my efforts. And it wears on me.
If any of you have felt defeat or doubt this season, you aren't alone. It's so easy in the reflect to immediately turn the negative. I dismissed the 13 gift guides I shelled out and revamped over the past 6 weeks, the Cyber Monday sales I covered, the days in and out of Instagram presence. I dismissed the growth, the tripled earnings, and the overall uprising of my brand this year. All because I chose to play into comparison and my frustration. I only chose to view my have nots. And tho I praised the success of others, I questioned what it was that I've lacked.
If your reflection is derived from a negative mindset at start, dismiss the act. It won't get you anywhere other than the feeling of doubt and defeat. You're better than that. I am better than that. You deserve all you've worked for and are continuing to work for. Whatever that may be; if it's a business, fitness path, promotion or even family. Looking at all you have and how far you've come in a POSITIVE light is the only catapult towards achieving your success.
Being an influencer is tough. We all share the same things, and create a lot of similar content. And tho the vast content I produced was organic, it became so frustrating seeing those who appear stagnant reap what I was working so hard for. I became angry coming to conclusions. In truth, I don't know other's strategy, reasoning behind it, or even how each individual influencer defines her success. I don't know her road. All I know is my own. I know the value I've placed on this blog and the importance of the community I've built. There's no sign of defeat, so why do I allow this negativity and frustration to consume me?
I once heard from one of my most favorite Pelaton instructors – a largely successful entrepreneur, fierce instructor, a woman of faith – "When we are frustrated with something it shows that you care deeply enough to be effected negatively. It doesn't feel good to feel frustrated, but it gives us an opportunity to identify something good. So in the moment of frustration, identify everything that's good about the current situation. Identify all you have done, all the obstacles you've achieved to get to where you are. Frustration is an identifier – that you care, it's your passion, and that you love this."
You're good enough. What you've done is good enough. Even if it hasn't met your own expectations or your pace is a little slower … recognize your effort and take pride in it.
If you're frustrated today, take a moment to be grateful for your frustration. "Being frustrated is a direct reflection of your willingness to work hard for something. So much so that your hard work isn't necessarily paying off." But know this willingness to work hard also may surface a need to restructure your approach.
Yes, recognize those efforts in a positive light. Be proud of those miles you logged, or the hours spent at the office. In my case – I needed to step back and recognize my diligence in creating so much this season. Be proud in all you've done to get you where you are! But with it, reevaluate your approach going forward. It doesn't mean what you're doing is bad. Or that you don't know what you're doing. But more so taking a deeper look at our efforts helps us not only rid us of the frustration we are lingering in, but to grow and feel good about who we are, where we're going and accept our place.
As we come up on the end of a decade, I challenge you to do the same. Rest and relish in who you are and the person you've become. More so, know you're exactly where you should be.
---
Thanks for letting me vent. I know this 'intro' to our Instagram round up became quite lengthy, but any post titled on reflection is bound to hold a high word count. (at least here anyway) All said, I've included a long overdue round up of December's latest below. As in all round ups, links and sizing are included below each image for an easy and convenient shop!
sweater tunic (XS) | vest ( XS) | leggings (XS) | boots (TTS)

sweater (XS) | faux leather leggings (S) | booties (TTS)
leopard sweater (S/M) | leggings (XS) | crossbody

plaid popover (XS) | pants (XS)

white button up (XS) | sweater blazer (XS) | faux leather leggings (S) | booties (TTS) | wallet

shirt dress (XS) | booties (TTS) | wrap bracelet

sweater (XS) | denim (TTS) | booties (TTS)
dress (2P) | coat (S) | kitten heels (size down .5)

sweater (XS) | crossbody | skirt (SP) | booties (TTS)

poncho (XS/S) | dolman tee (XS) | leggings (XS)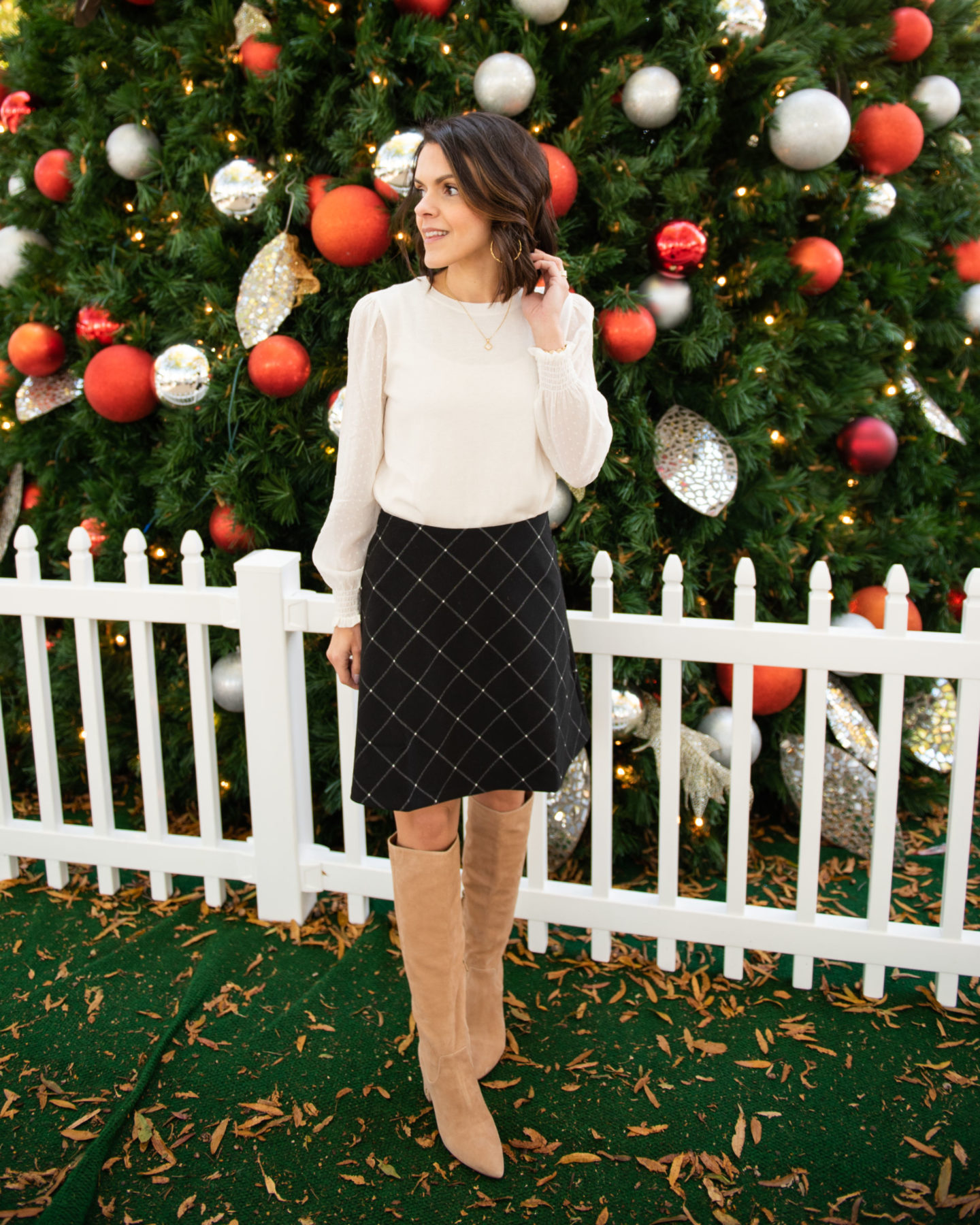 mixed media sweater (XS) | skirt (XXSP) | boots (TTS)

tunic (XS) | scarf (similar) | faux leather leggings (S) | OTK boots (TTS)
---
If for any reason we miss each other between now and next week, may you all have a joyous and blessed Christmas! Thank you for stopping by!
xoxo