Happy Monday, ladies! If you follow me on Instagram, I frequently poll inquiring what you're shopping for. I've heard from many of you that you're shopping workwear – and girl, am here to show you – I've got you. Tho it's been a while since I've been in corporate world, I do know the struggle of finding affordable attire for the workplace. I can remember the stress of finding looks with limit on what is considered appropriate – from one denim fetish holder to another, the struggle is a real one. Casual Fridays could not come soon enough, am I right?  Not to worry tho – my love for the style still runs deep with creativity and am so excited to implement the share! Taking your requests, I've thought to incorporate at least one workwear try on each month in stories and an ongoing series here on the blog to ensure you've got those Monday thru Thursday looks covered!
This post will be the first in the workwear series, and you'll be able to access all other future posts here. Additionally, every time I do a try on, I upload individual links to the designated retailers page. Under each stock image, I include details on sizing worn during the most recent try on and any thoughts worth noting. The items shown today coincide with the most recent LOFT workwear try on shown below.
That said, and ICYMI, I found so many amazing workwear looks that I shared in Instagram stories last week. The videos are all saved to my workwear highlight on my Instagram. I'm including all outfits below with sizing details for easy shopping! FYI – several of these workwear wonders are on sale at 60% off!!
And, you may notice a switch in shoes – Knowing the plan to feature workwear, I made sure to bring along my favorite low block heels for the try on.  A shoe I think classy, versatile and very affordable. I've included the heels and mules worn in the try on below in the "shop the post" widget.
*all items are linked under the photo with sizing details*
Cardigan – XS (TTS), also avail in plus | Pant – XS (run large), also avail in petite & plus
Top – XS (TTS), also avail in petite & plus | Pant – 0P (TTS), also avail in reg sizing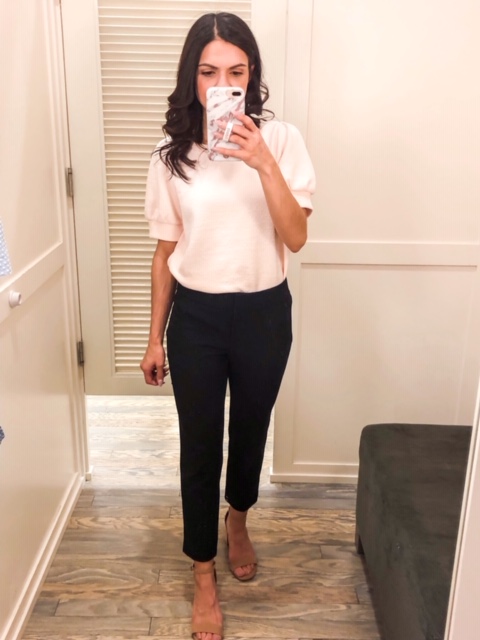 Top – XS (TTS) | Pant – 0P (TTS), also avail in reg sizing
Blazer – 0P (TTS), also avail in reg sizing | Dress – SP (TTS)
Dress – 0 (TTS), also avail in petite
Sweater – XS (TTS), also avail in petite & plus | Pant – 0 (TTS), also avail in petite
Top – XS (TTS), also avail in petite & plus | Pant – 0 (run large), also avail in petite & plus
Top – SP (TTS), also avail in reg sizing | Pant – 4P (run small), also avail in reg sizing
Top – XS (TTS), also avail in petite & plus | Denim – 25R (TTS)
---
SHOP THE POST
[show_shopthepost_widget id="3537309″]