Happy Wednesday, lovelies! It's officially Summer here in the Hancock household – enforcing many schedule adjustments – blogging and posting included.  With school now out for Summer, I've had to adjust to the idea my try on sessions may no longer be conducted alone. Now instead of a crazy lady talking to herself in the dressing room, I have two side kicks to add to the banter. Pray for patience and send happy thoughts. There's only so much they can take before they are rolling on the floor and trying the clothes on themselves.  Mamas .. ya feel me? Luckily, Patrick's schedule fit nicely into this week's planned try on and I managed to run to LOFT sans kiddos. Our fave retailer has a whole batch of new arrivals – making today's post mark off this month's workwear share!
When in the workforce, it was always the hardest to dress in Summer months. Do you wear short sleeves to enjoy your lunch in the sun, or put on your oversized sweater to rid you from the chill of a frost bitten AC'd office? Knowing the struggle, I searched for a variety of tops and layering pieces to help aid in the contest. I managed to try on 9 outfits – temp conditions appropriate. I'll note all of these pieces fit into the 'work to weekend' category, making them that much more versatile!
As a reminder – this post is the third in the workwear series, and you'll be able to access all other workwear related posts here. Additionally, every time I do a try on, I upload individual links to the designated retailers page. Under each stock image, I include details on sizing worn during the most recent try on and any thoughts worth noting. The items shown today coincide with the LOFT Summer workwear try on shown below.
One more tidbit to note – as in all workwear try ons, I made sure to bring along a favorite low block heel for the try on.  A shoe I think classy, versatile and very affordable. I've linked them below in the "shop the post" widget.
*all items are linked under the photo with sizing details*

---
floral top (SP, size down) | skirt (XXSP, size down)
cami (XS, size down) | skirt (XS, size down – also avail in Petite)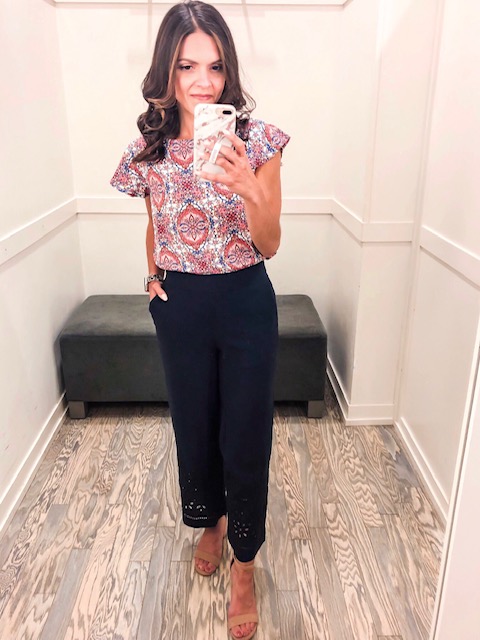 top (XS – TTS, also avail in Petite & Plus) | pant (XS – size down, also avail in Petite)
poncho (XS/S – TTS) | tank (SP – TTS) | denim (25R – TTS)
duster (SP – TTS) | cami (XXSP – size down) | pant (0 – size down, also avail in Petite, Plus & Tall)
sweater (XS – TTS, also avail in Petite & Plus) | pant (0 – size down, also avail in Petite, Plus & Tall)
chambray dress (0P – TTS)
jumpsuit (00 – TTS, also avail in Tall)
floral dress (SP – TTS) | cardigan (SP- TTS)
---
SHOP THE POST
[show_shopthepost_widget id="3613603″]