Happy Friday, babes! It's officially Spring break around here! Ya'll..a whole week of sleep ins? Que the happy dance! As planned, I'm rounding up all of my outfits from the last two weeks in today's April blog post. This is an easy way for y'all to shop everything in a single post! And an IG round up wouldn't be complete without a few listed fives – I made sure to include 5 of the best sales going on this weekend! So many good deals – and what better time than to build up that Spring and Summer wardrobe than now?!
5 on my mind
1. My son turns 9 today! Patrick and I have been taking strolls down memory lane this past week; re-watching videos and looking at past photos. I am always an emotional wreck when it comes to my children's birthdays. I tell them, at least weekly, I want them to stay little. Aside from my selfish desire to hold this stage in life steady, them getting older grounds me and reminds me to stay present and enjoy every moment with them.
2. It's finally Spring! Sun has been out and shining 5 of the 7 days this week. I may have mentioned this 'on my mind' in my last round up, tho it still is a consistent thought – this weather is an instant mood lifter. Anyone else agree?
3. If you follow me on Instagram stories,  you know I've struggled this past week, and been a victim of negative self talk. I've let the fear of blogging and challenges fog my focus. I'll say it here, as I have on IG – that dream you have in your heart, is yours. And it's not there by accident. More importantly, He's already written your story. So whatever is standing in your way of staying true to who you are, don't let it slow your role. Your journey will run on His pace. Shift back into your own lane if you find yourself down – remind yourself that your beginning is not her middle and just do you. Doing you is the only way your dreams will become reality.
4. I held a Keep Collective sign off sample sale this week in my VIP group. I've experienced a rollercoaster of emotions, reminiscing on all the stories and experiences I've endured as a designer the past 3 years.  Again, if you follow me on Instagram stories I've shared that it's time for me to move on. It's a bittersweet feeling, as I've learned so much about the person I am. I've grown self confidence, have seen my potential, learned the benefits of persistence, and have developed friendships for a lifetime. I've also realized I love having something to call my own, and tho Keep was really a large part of my day to day for the past 3 years – there is so much more to my story than being a solo designer. So it's time to move on. The time once devoted to Keep will be placed elsewhere – maintaining consistency here on the blog and a stronger presence in stories is my goal! I know this dream of full time blogging isn't by accident. I know being a Keep designer is just one chapter in my story and I am so excited to see what's written next.
5. I need to figure out a better way to store my shoes. Ha .. I know a huge shift from the last thought, but it's true. Last week I asked Jonah to go upstairs and get my slides … he was lost up there for a good 5 minutes trying to find them. Oops. Either my fetish is outta control or I am slacking in the organization dept. I'll take the latter. If you have any tips, please send them my way!
5 sales
1. American Eagle –  25 – 60% off everything – Check out my most recent try on here.
2. Beauty Counter – 15% off site wide! Read my full skin care routine here!
3. DSW – 15% off your purchase | 20% off $99 | 25% off $199 with code BEESKNEES – head here for my most recent try on faves!
4. J.Crew – extra 40% off sale styles + 40% off everything else with code SALEUPGRADE
5. Shopbop – 20% off orders under $500 or 25% off $500+ with code EVENT19
5 recent buys
1. Just picked up this midi dress! I love how it's not fully lined all the way down!
2. I needed a refresh on a denim skirt and am so excited to style this one. I love the length, the buttons and how versatile it is! Plus, it's on sale this weekend!
3. This blazer – ladies, if you're on the hunt for a white blazer this Spring, this is IT! I've shared 5 ways to style it in this recent post! So many great looks!
4. I am on a high waisted short kick! I've recently grabbed this twill, elastic waist pair and this classy black option. I love the fit and feel of both!
5. This Aster Hawthorne cuff has been on my wrist from the moment I unboxed my first Rocksbox! I love the howlite stones and the simplicity of the piece! Receive your first box free with code SARAHHBFF247.
[show_shopthepost_widget id="3543655″]
5 on wishlist
1. I am loving the straw and bamboo bags for Spring + Summer. I keep looking at this popular one and just may splurge with the current Shopbop sale underway.
2. This girl loves camo and this side slit Z Supply pullover looks so cozy. Also on sale!
3. Last year I gave in to the embellished sandal trend, and I am hooked! This season is no different. I've had my eye on these white Marc Fisher LTD Riter Flat sandals for weeks!
4. I have gone back and forth on the wide leg cropped pant style, tho am 99% convinced I'll jump on the bandwagon and try them out. Especially since these are only $14! How cute would these look with a graphic tee and sneakers?!
5. Am gearing up for a trip to WA to see my closest friends next month. I am planning to purchase and pack this organizer make up bag .. it's perfect for travel!
[show_shopthepost_widget id="3543659″]
5 easter dress options
Per request, I am headed to Target today to try on several affordable Easter options. Here are a few other dress options  I've saved this month on que that would work beautifully.
[show_shopthepost_widget id="3543848″]
---
Below I've shared the past two weeks of Instagram photos. As in all round ups, all of the outfits below include links and sizing details.  You can also 'shop the post' every seven (or so) images from the scroll widgets.
cardigan (XS) | peplum tee (XS) | denim (25R)
dress (XSP) | booties (TTS) | necklace
top (XS) | denim, similar (25R)
jumpsuit (XS) | sunglasses (receive 15% off with SARAHSTORIES15) | jacket (XS) | espadrille flats (TTS)
check out my full skin care routine post, with all products linked here
tee (S) | rattan bag | denim (25) | espadrilles (TTS)
---
[show_shopthepost_widget id="3543770″]
---
hobo bag | jumpsuit (XS) | chambray shirt (2) | slides
romper (S) | rattan bag
cropped cardigan (S) | pant (00) | sandals (TTS)
romper (XXSP) | sandals (TTS) | watch (receive 15% off with SARAHSTORIES15) | cuff
utility top (S) | black denim (26) | booties (TTS)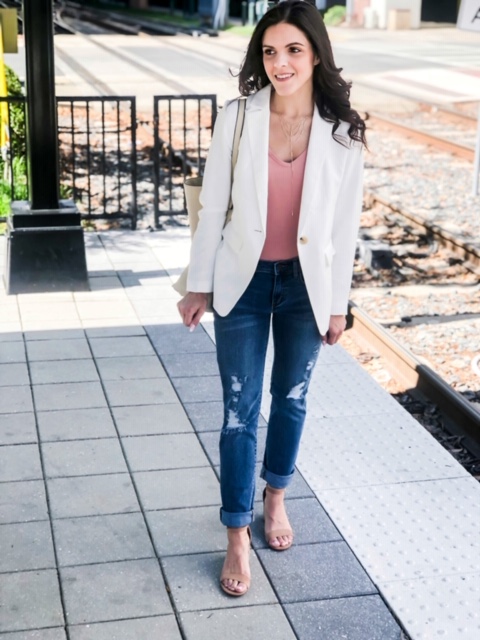 blazer (0P) | bodysuit (M) | necklace | hobo bag | denim (00) | sandal (TTS)
---
[show_shopthepost_widget id="3543779″]
---
There you have it! Thank you so much for taking the time to read today – wishing you a very happy April weekend!