Happy Friday, babes! This week has flown by – I still cannot believe we are in March! Aside from January's marathon pace, February felt like a sprint – I have a feeling this month will be similar! Today's post is another collab of a Friday five and Instagram round up! I'll be sharing a few lists on mind, along with the latest Instagram photos posted. Let's get to it!
5 on my mind:
1. Talk of my son's 9th birthday has started already. How can it be that he'll be nine next month? One year shy of double digits. With a newfound hobby, he's informed me he'd like a party at the ice rink to skate with his friends .. gone are the days of jump houses and party games for this boy.  I'll add – it's clear we have a budding hockey player in the works, which I am not apposed to. I'd much rather drive him skate than be enthralled in fort nite. Still shocked that my baby is not so little anymore.
2. I am still loving my Nespresso maker. I honestly cannot say how much we've saved having purchased this machine. If you missed it, I've saved my rave and how-to in a highlight on Instagram!
3. With Spring's official arrival on calendar this month, it seems as if everyone (me included) is longing for all the joys that come with the new season – warmer weather, vacations, even beachwear are front and center.  I totally get the complaint – especially if you live somewhere miserably cold and there's still talk of 10 inches of snow this weekend. That said, I too have noticed my own tendency to wish away the current season I'm in, always wanting the next.  This month, I've made a conscious effort to be present and enjoy the current season I am in. To embrace all that is happening now and find gratitude within it. I encourage you to do the same!
4. I've really been into Pinterest lately and have enjoyed pinning all sorts of fashion inspiration! Pinterest really is a beneficial tool – gaining growth and exposure to my brand and proving a resourceful  'search engine' for ideas and style content! If you ever need style inspiration, or see one of my looks on Instagram and want to save it for later, I have a Pinterest board designated specifically for all of my Instagram outfits! Feel free to check out my other boards catered to seasonal style, lifestyle, beauty and fitness!
5. It's started y'all – Ellie told me today she wants an American girl doll. You think I was excited at Christmas when Barbies entered the picture? I shrieked when she quietly mentioned the request last week. I may have immedietly bought her Target's version plus accessories on a whim. This is the age I've looked forward to ever since I learned my world would involve all things pink – having a little girl is so much fun!
5 vacation items:
1. I purchased this affordable rattan bag from Amazon this past week and am loving this fun Spring essential! Perfect for getaways and vacations on deck!
2. Loving this affordable two piece (top and bottom) from my most recent Target try on.
3. I am not always one for hats, but this one is essential for shade (and fashionable) purposes on vacay! Super cute and I'll add holds Upf 50+!
4. These Karen Walker dupes are in cart!
5. A definite follower favorite in my Amazon fashion Vacation haul is this coverup! I love the tassels on the bottom – also comes in 12 different shades!
5 essentials for Spring:
1. Denim is always a closet staple, no matter the season. Adding a new pair in Spring makes me so happy! I've had my eye on this boyfriend style, and these overalls are currently in cart!
2. Spring wedges are a must have for Spring – I am loving these with the lower heel height, and these Chloe dupes are on route!
3. Casual style and athleisure wear come to mind for Spring – with baseball and outside activities on calendar, I need a comfortable sneaker or slip on to wear sideline. Loving these trending leopard slip ons! I've also had my eye on this classic converse style and these fun glittered sneaks!
4. I love a good jumpsuit – especially ones with softest material and that make you feel like you are wearing pajamas! Lou and Grey never disappoints!
5. A trench coat is considered the outerwear of Spring. Am loving this classic option.
5 recent buys:
1. I've shared these coveted Marc Fisher booties in stories and on the IG feed. I cannot get enough of them! I love the detail and wide ankle. These are currently out of stock, tho you can check out similar options here and here.
2. Leopard lovers unite! These calf hair flats are gorgeous, of the highest quality, and super comfortable! They fit TTS – receive 20% off if you sign up for emails!
3. Polka dots and denim? Yes, please! Grabbed this super cute LOFT denim jacket last week and am excited to style it this Spring!
4. I shared this versatile tank dress in my most recent Amazon Fashion Vacation haul, and it's definitely a keeper! Very comfortable, offered in 23 different colors, and it's only $19!
5. I've been on the hunt for the perfect, non-distressed pair of white denim and found them! J.Crew never disappoints and the quality is exceptional. These fit TTS, and are not see thru (a definite deciding factor when searching).
5 sales
1. Abercrombie – 20% off your entire purchase + Free Shipping On Orders Over $75 – Check out my favs here.
2. DSW– VIP club members: receive $20 off $99 or $60 off $199 with code GOSHINE Receive a backpack with any $49 purchase with your choice of color using code GREENPACK or GRAYPACK
3. Goodnight Macaroon – 40% off site wide with code FRESH40
4. LOFT –  40% off your purchase with code NEWNOW — head here for my most recent try on and other favs!
5. Madewell – 15% off for Madewell Insiders – it's free to sign up!
As in all round ups, all of the outfits below include links and sizing details.  You can also 'shop the post' every seven (or so) images from the scroll widgets.
Kimono (OS) | tank (TTS – XS) | Denim (TTS – 4R) | Booties (TTS)
Cardigan (TTS – XS) | tee (similar) | denim (TTS – 26R) | Mules (TTS)
Blouse (TTS – SP) | denim (TTS – 25R)
hooded sweatshirt (TTS – S) | denim (TTS – 4R) | slides (TTS)
cardigan (similar) | Peplum tee (runs large – XS) | denim (TTS – 2R)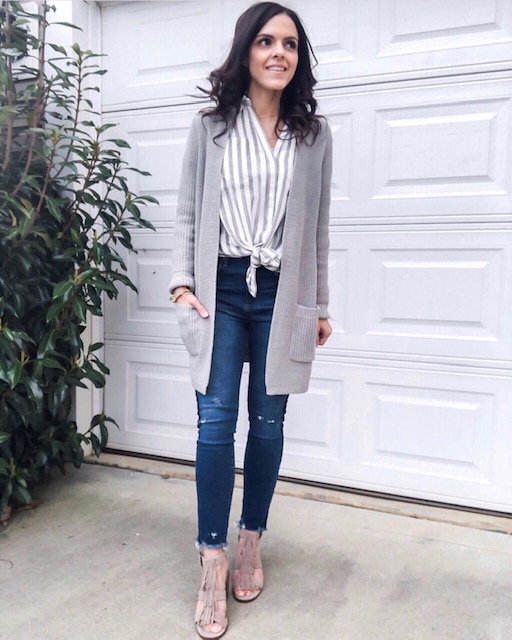 Tie front top (runs large – XS) | cardigan (TTS – XS) | denim (TTS – 26R) | sandals (TTS)
hooded cardigan (TTS – S) | tee (TTS – M) | denim (TTS – 25R) | booties (TTS)
---
[show_shopthepost_widget id="3502210″]
---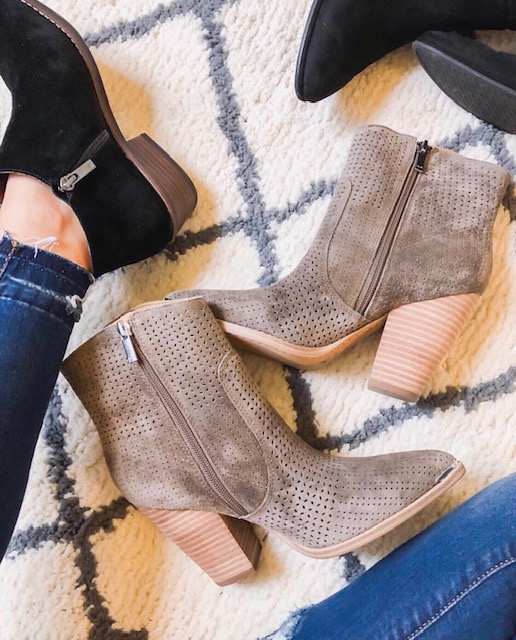 perforated booties (TTS) | black booties (TTS)
cardigan (similar) | leopard tee (TTS – S) | denim (run large – 24) | booties (TTS)
tunic (TTS – XS) | leggings (TTS – S) | booties (TTS) | crossbody
denim jacket (TTS – S) | dress (TTS – XS) | sandals (TTS) | hat (OS – adjustable)
 beach fleece (sized up for oversized fit – S) | denim (TTS – 25R) | flats (TTS)
camo tee (TTS – S) | denim (similar) | booties (TTS) | sunglasses
thermal (TTS – XS) | denim (TTS – 26) | flats (TTS)
thermal (runs large – XS) | denim (TTS – 4R) | mules (size up .5)
---
[show_shopthepost_widget id="3503098″]
---
There ya'll have it! Wishing all of you a happy Friday and start to Spring! As always, thanks for stopping by!