Happy Friday! Well, I did it again, I put too much on my plate this week and kinda set myself up for a crash of unmet expectations. Seems as this has become habit recently – I have so many ideas with so much content to share, that I somehow think sharing it all at once is doable.  It's okay tho, I've taken a step back, have rescheduled my todos and am sitting a little lighter as I draft todays post. It's been a while since I've shared some Friday five lists, so I thought to share them today and combine them with this week's IG round up. Let's get to it!
Five on my mind:
1. My baby girl turned 6 this past week. Each birthday brings reflection and a reminder of God's masterful plan. I am holding onto these moments together with her, as I know she won't be so mini much longer. I sure hope she knows how much she's made me for the better; that she has my whole heart, and most importantly sees his work present in her life.
2. I went for a run this am and about keeled over. I hadn't ran for over a week and it showed. Ive been loving my Pelaton bike – it's so easy to walk downstairs each morning, get my workout in and mark it off list. Tho consistency is good, my routine has been biased. I need to get back to alternating my workouts – it's good to work different muscles on different days – the ones tied to running were in shock this am. Let's hope Monday's run is more pleasant.
3. Can ya'll believe it's nearly August? Kids go back to school in 3.5 weeks. Where has the Summer gone?
4. A Starbucks dragon drink or white tea sounds amazing right about now. (Ha – a Friday five on my mind list wouldn't be complete without a Starbucks reference, now would it?) Tho espresso has my heart, I've been enjoying a fruit refreshment most afternoons this Summer. A few drinks to try if you haven't yet – Venti Dragon drink, sub soy milk. or a Venti iced white tea – add peach juice, and a splash of coconut milk. No cane sugar.
5. At this very moment, as I type this last point, I am beyond humbled. Somehow 10k of you (via IG) have decided to follow along with me on this journey. When I began, I never would have imagined the joy I'd experience. Every comment, dm, reaction and like means the world to me and truly brings light to my day. The idea that you are here, reading my thoughts and rely on my style source fills my cup past brim. Thank YOU for being here, shopping my links, and reading my story.
Five recent buys:
1. Madewell skinny overalls – hoping to put together a few looks on ways to style them! Stay tuned!
2. BlankNYC faux leather drape jacket – grabbed this in the NSALE. Versatile, chic and sooo good!
3. Free People ripped high waist skinny jeans – love the fit and feel of these! Fit TTS
4. 42 Gold open toed booties – in love with these and am so excited to style these now and into Fall
5. Barefoot Dreams cardigan – snagged this on QVC last week. Ya'll it's heaven. Unbelievably soft and worth every word of hype.
[show_shopthepost_widget id="3668437″]
Five I am shopping for:
1. Love these white jeans. I am not one to absolutely love white denim, but the minimal distressing and raw hem give them a different look that I love.
2. Saw this snakeskin boot on trend in the NSALE and been on the hunt for a more affordable option. I may snag these or these in the next coming weeks!
3. Button fly skinny jeans – can't stop thinking about this pair I tried on in my last LOFT try on.
4. Tote bag – I've had my eye on this one for months. Love the color for Fall and that I can personalize with monogram.
5. Lace trim cami – this newest A+F color is gorgeous!
[show_shopthepost_widget id="3668449″]
Five recent Amazon finds:
1. Cutest, most versatile Summer dress! Fits TTS
2. Camo cardigan – perfect lightweight layering piece, on trend for Fall. Fits TTS
3. Vit. E enhance oil – cannot recommend this enough! It's been a repeater on my monthly faves lists! Proven to reduce the appearance of dark spots and scarring.
4. Hanalei lip treatment – just grabbed this! Have heard great reviews!
5. Black tasseled belt bag – I've officially jumped on the belt bag train. So convenient and versatile!
[show_shopthepost_widget id="3668458″]
Five weekend sales:
1. Abercrombie // 30% off your entire purchase + free shipping on orders $75+
2. LOFT // 50% off full priced styles with code SUMMER4EVER
3. Soma Intimates // 40% off $200+ with code 78869 | 30% off $150 with code 82950 | 15% off with code 30513
4. Old Navy  // Redeem your super cash or receive 20% off your purchase with code SWEET
5. Victoria Emerson // Christmas in July Sale!
---
Outfits
bodysuit (similar) | vest (S) | denim (0) | mules (TTS)
shirt (TTS) | leggings (TTS)
midi dress (similar) | crossbody (similar) | booties (TTS)
top (similar) | denim (TTS) | espadrilles (TTS) | sunglasses | handbag (similar) | bracelet
---
[show_shopthepost_widget id="3668497″]
---
cardigan (S) | tank (XS) | denim (2S) | booties (TTS)
midi dress (XS) | tencel parka (XS)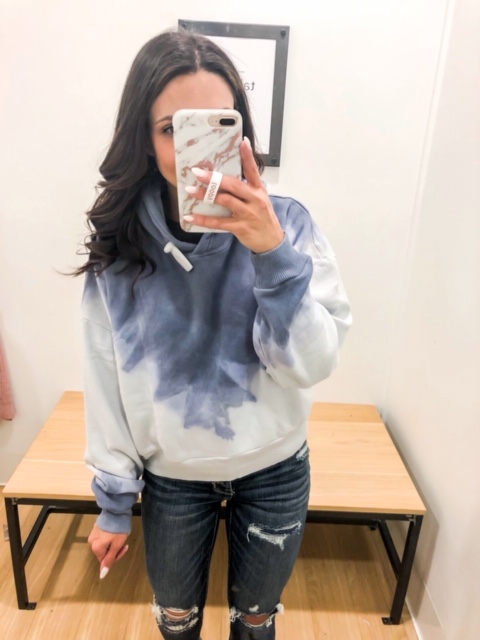 sweatshirt (S)
sweater (S) | denim (2R)
tunic (similar) | denim shorts (TTS) | straw tote
tee (S) | skirt (XS) | mules (TTS) | necklace
---
[show_shopthepost_widget id="3670806″]
---
Wishing Y'all a very happy weekend! Thanks for stopping by for my Friday Five!
xoxo