Happy Friday, babes! If you've been following my stories, it's been a week, to say the least. I love Spring break, but the amount of times my sweet kiddos have informed me there's 'nothing to do' – it's risen to high levels. I am exhausted! Shout out to all the Momma's who've survived, and a huge statement of gratitude to all the teachers who's patience is far better than mine! All that said, I have managed to be quite productive this week! Despite being pulled in multiple directions, my goal to keep these IG round ups more consistent is right on track! Today's post shares a few fives lists and this past week's Instagram pics! Let's get to it!
---
Five noteworthy sales:
1. Abercrombie  – 50% off + free shipping on orders over $75 – Check out my favs here.
2. American Eagle –  25 – 60% off everything – Check out my most recent try on here.
3. EXPRESS – 40% off everything!
4. J.Crew – 50% off ready for Summer styles + an extra 15% off your purchase with code HEYSUMMER
5. LOFT – Friends & Family event – 40% off your purchase with code FRIENDS + an additional 10% off if you sign up for text alerts! — head here for my most recent try on and other favs!
Five things I am loving:
1. This past week I shared a comical look into my self-care night. I recently tried out this new Tula Cooling & Brightening Hydrogel Mask. Much like the Glow and Get It stick I love, it cools and hydrates your skin. I love the feeling on and off. They come in a pack of 4, rounding out to around $8.75 each (cheaper with discount!) A great investment for your skin!! Why I love it? Tula products are 100% free from phthalates, parabens, propylene glycol, petrolatum, gluten, and mineral oil. They are also cruelty free. Receive 20% off your purchase here.
2. 2 leggings for $24? Yes, please. That's all I needed to see to give Fabletics another go-round. Shortly after Jonah was born I had tried Fabletics and had loved them. A newer company tho, I felt their selection wasn't as wide and quickly came to realization I had exhausted the purchase of my favorites in every color. Having looked at the site years later, they've expanded their inventory and am soo pleased with my newest athleisure wear! Not only is their selection vast, but the material is on point – being functional, breathable, and very on trend. Grab your 2 pairs of leggings for $24 here!
3. I have been wanting a new shadow palette to experiment new looks for Summer. I recently grabbed Urban Decay's Born to Run palette and am in love with it! With 21 shades – from jewel tones and modern neutrals to more colorful shadows – every look imaginable is in this kit! It's been so fun and well worth the splurge!
4. Soma Intimates racerback bralette – okay, I know, you may be thinking – a bra? Really? That's what you're loving these days? Yes. It's the softest, most seamless bra you'll ever put on your body. I honestly will forget I'm wearing it sometimes because it's so comfortable. The material is insanely soft – and it's closure-less, meaning it has the design of a sports bra, but you can wear it when you aren't working out/while wearing normal clothes. Ya'll, I want one in every color. Planning on grabbing a few other colors, as they are currently BOGO 50% off!
5. I love listening to music when at the computer and have recently loved this Spotify playlist. Am interested to hear any other playlist recommendations ya'll are loving – it's always neat to mix up my music selection.
five Easter side dish recipes:
Thought to share these recipes, as I have loved making them in years past. These are a few favorites of mine I enjoy bringing to Summer BBQs and family get- togethers. They are always a hit, leaving little to no left overs.
1. Confetti Tortellini salad
2. Rabbit Rolls
3. Perfect Summer Fruit Salad
4. Strawberry Pretzel Salad
5. Saffron Orzo
five items in cart:
1. Loving the color of these high waisted jeans. AE denim always provides the perfect fit!
2. Been on the hunt for a good black denim short. A few influencers I follow have raved high reviews on the fit and feel of these! Excited to try these out!
3. Shared these on sale this past week and with current sale, am tempted to jump on that wide leg crop trend! Who's with me?
4. I've had so much fun exploring new beauty techniques recently. Tho completely naive to the way of contouring, this palette has been on wishlist for a while. I am thinking I'll grab it in this next week's Sephora Beauty Insider event!
5. If there's another espadrille – I want it. No joke tho, I have built quite the collection this season. No shame in adding these to the line up for Spring and Summer! Have heard they are extremely comfortable, too!
[show_shopthepost_widget id="3552287″]
five Spring shoe favorites:
1. Just grabbed these ultra comfy sneaks! These literally feel as if I am walking on clouds! Perfect for all your Spring casual looks!
2. The woven mule trend got me! Love these white woven mules – they lighten up any look, and are perfect paired with denim, cropped pants and all those rompers talked about this Spring!
3. What's a Spring shoe list without an espadrille? Love this neutral tan leather pair!
4. These two-toned braided sandals have been on wishlist all season! Shown in my most recent TrunkClub review!
5. How cute are these blush colored gladiator sandals? So comfortable and currently down to $15!
[show_shopthepost_widget id="3552293″]
---
Below I've shared the past week of Instagram photos. As in all round ups, all of the outfits below include links and sizing details.  You can also 'shop the post' in the scroll widget below.
cardigan (XS) | pant (00) | sandals (TTS)
romper (XSP) | sweater blazer (XS) | sandal (TTS)
espadrilles (size down .5) | leopard flats (TTS) | booties (TTS) | black espadrilles (TTS)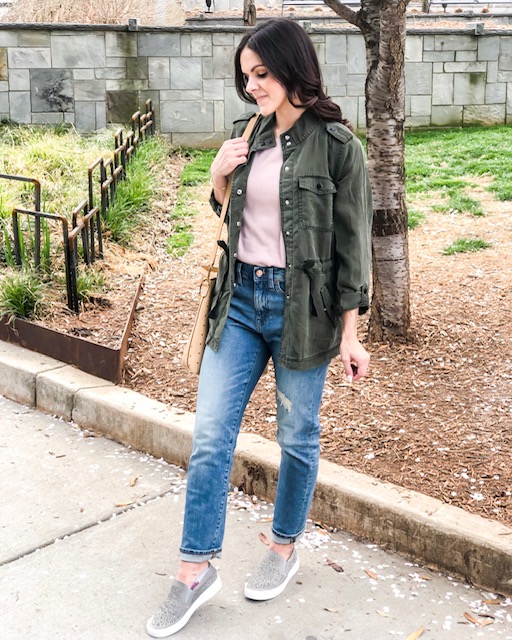 utility jacket (XS) | tunic (XS) | denim (24) | shoes (TTS) | tote (similar)
cardigan (XS) | cami (0) | denim (similar) | mules (TTS) | handbag
sweater (S) | denim (00) | mules (size down .5) | watch (receive 15% off with SARAHSTORIES15)
---
SHOP THE POST
[show_shopthepost_widget id="3552281″]
---
There you have it! Thank you so much for taking the time to read today's five and IG round up today – wishing you a very happy Easter celebration weekend!