Jeans.. such a broad clothing category, right? There are so many options these days, it's hard to know where to start. Skinny, boyfriend, cropped, high waisted, distressed, dark, classic, light – just listing a fraction of the style and wash options available get's a mind spinning. Not to worry tho, this deemed closet staple is my jam. I love denim. Looove it. I'll admit, my jean fetish is out of control. Having assigned an entire column of shelving in my closet may have been a red flag back in the day .. but who's to judge other than myself, right? Fortunately, that gives us more to work with and an abundance of first hand experience for this jean round up post! My fetish is your gain!
Wether you are a denim lover wanting to try out another personal style favorite or are looking for the classic closet staple, you've come to the right place! For today's post, I'll be outlining several styles of denim that I love, my favorite pairs in each category, and other alternatives that make my list (and somehow have taken spot in my closet).
All stated, I've tried out my fare share of denim over the years. Enough to share, what I think is, a good round up of options available. I will note that after reviewing all the pairs currently coveted in closet, the majority of those that are on repeat are high waisted. There's something about the fit, and overall comfort of a high waisted jean that I love. And all (with the exception of one) are a skinny fit. I distinctly remember the curiosity of the new trend turned staple in my 20s. I did not, for the life of me, understand the obsession. Once tried tho, once turned. It is my #1 style of choice for many reasons. The style is flattering for most, elongates my short frame and easily pairs with any type of top and shoe of your choosing. A style proven staple in my closet.
The ones listed today are favorites and all that work best for me and my frame. I do cover and link other optional styles near the end of the post for those looking for a wider width and lower rise.
FAVORITE HIGH RISE DENIM
As stated, my favorite style.  This retro styled jean is making a comeback (at least in my closet).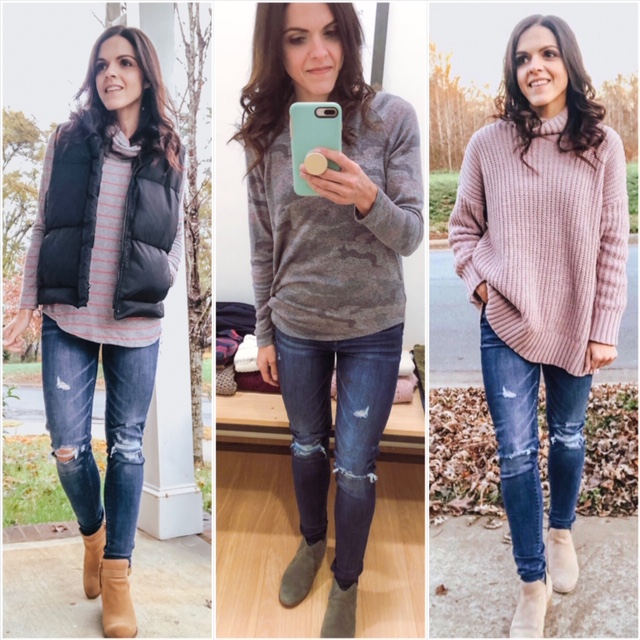 AE Highest waist jegging | aged blue traveler: (updated) This fit is the highest waist offered in AE jeans. That said, I sized down 1, to ensure a fitted waist. My best fit in these jeans is a Regular, Size 2. At 5'2″, you would think I'd opt for the shortened length, but I opted otherwise to give the option to cuff the bottom. The excess denim (if any) at the ankle doesn't ever bother me and justifies a more versatile wear.  I'll note these were chosen off the shelf for their minimal distressing. I love how the distressing is patched, giving you the overall look of a distressed jean, yet minimal skin show. I love the dark wash and overall feeling when worn.
Abercrombie high rise super skinny jean | ripped medium: I've written on my love for these jeans here. They take second to the AE jegging above only because of my rise and distressing preference. Still high waisted, the rise is a full 3/4 inch lower than the AE jeggings. And the distressing is still minimal, yet visually more than the above. Still, these rank high on the list and have made it to this post with good reason. I wear these often and love how I feel in them. My best fit in these are a 27, short. These are offered in short, regular, and long length. And available in 5 different washes. I also own these in the black denim. Definitely a denim on repeat.
FAVORITE CROP DENIM
Cropped jeans cover a total three-fourth portion of your leg which makes your leg look longer and leaner. I love wearing these with booties, or dressing them up in heels.
Abercrombie High rise ankle jeans | dark wash: (updated) No distressing, with the exception of the hem. These are so flattering and fall right above the ankle. My normal size in Abercrombie jeans is a 27 short, however I sized down 1 in these to a 26. I felt the waist wasn't as fitted as I would like in my normal fitted size. Minimal stretch and offered in short, regular, and long.
AE Next level high waisted crop | light indigo: (updated) I love these for the button fly, alone. These feel similar to the highest waist jegging in stretch, yet are cropped with a given cuff. My best fit is a 4 regular.
Madewell 9″ highrise skinny crop| w/distructed hem in Indigo: Compared to the other cropped pairs mentioned, these hold minimal stretch. Madewell jeans fit all in the right places, and are the best quality. A premium pair of denim worth the spend. These fit TTS, with my size a 27.
FAVORITE MID RISE DENIM
Read from research, the mid-rise jeans are one of the most regular styles of jeans worn. This denim sits below your belly button.  These look great on those with wider hips.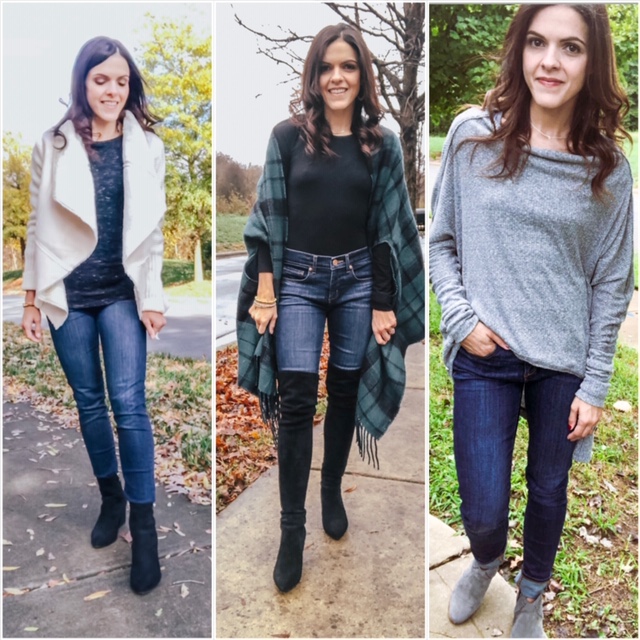 LOFT Slim pocket skinny jeans | dark indigo : These by far, are my most worn pair of denim. A classic dark rinse pairs easily with ANY top and shoe choice. You can easily wear these in the office on casual Friday, dress them up for a date night out, or go casual with with sweatshirt on weekends. I wear a Modern 25, regular. These are offered in a Modern or Curvy fit and optionally work for petites and plus.
1822 distressed skinny jean | wall flowers : This brand is new to me, tho I've fallen in love with the fit. They are super affordable, with all denim styles and washes under $50 a pair. These fit at hip, with minimal distressing. My best size is true, at 27.
FAVORITE BOYFRIEND DENIM
This jean is a tight fit around your hips and loose in the legs. I love this style for comfort alone. Great for all body types.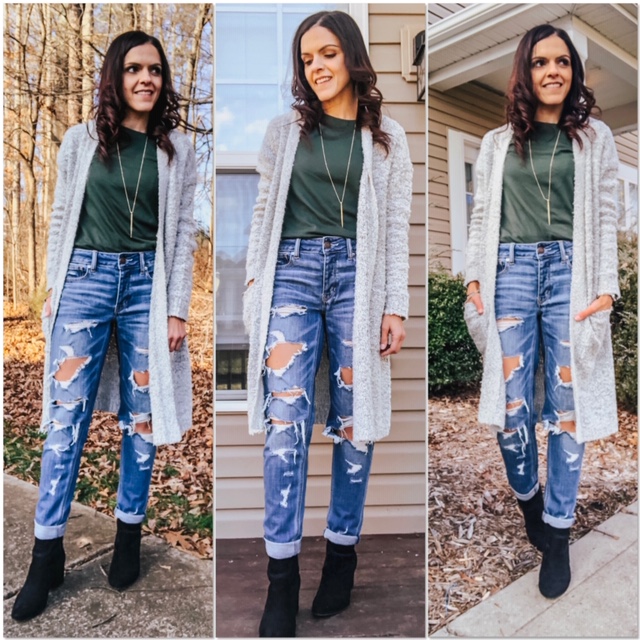 AE Tomgirl jean | weekend wanderer: These were my very first pair of AE denim. Surprising, no? I am not a huge distress denim lover, but I tried these out regardless to adhere to hype. These run very large, and my best fit is a zero. The denim is very soft providing an overall comfort when worn. These are fun to pop on over a swim suit in the summer, paired with a cute graphic tee, or even dressed up with a rolled hem and sock booties.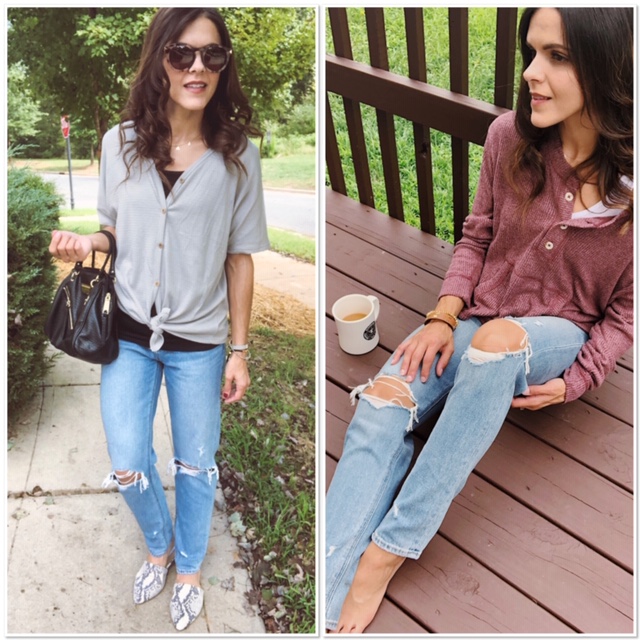 AE Mom jean | cool classic: I  may not categorize this as a boyfriend fit, but it's on the looser fitting end, so thought to share these favorites regardless. This pair, surprisingly, was my first high waisted pair of denim. Although I don't need a title to convince the spend, the name caught my attention. I'll state tho, these aren't your typical 'Mom' jeans – you know the ones back in the day, white washed, flat backed, and unflattering at best. These are super comfortable, and have become those I reach for on weekends. I enjoy these jeans with a looser fit, so I stuck with my AE size – 4 regular. I'd recommend sizing down if you'd like a tighter fit at the waist and thighs, as these jeans have zero stretch. So cute paired with a cropped sweater, or bodysuit.
---
Other styles to consider that I love are straight, bootcut and wide legged jeans. I've linked a few options of these below worth the look! All of those listed are from retailers most shopped from.
Straight denim (often named 'cigarette') is straight and narrow and does not widen at the ankles. This style offers a straight cut all the way down, balancing the hip. This style looks great on curvy frames.
[show_shopthepost_widget id="3441361″]
The bootcut style looks good on all body shapes as it makes the look streamline and make the wearer look long. Super flattering when worn with heels.
[show_shopthepost_widget id="3441355″]
The wide leg jean is a loose fitting denim, and imo, looks great on anyone. Paired with tighter fitting tops, these can be dressed up or down and still look amazing.
[show_shopthepost_widget id="3441348″]
Before you head off to try my favorites, I'd recommend taking a few minutes to watch this video. The search for the perfect pair of denim is a tough one, tho this author gives some great tips in narrowing down your best fit.
---
SHOP THE POST
[show_shopthepost_widget id="3441380″]