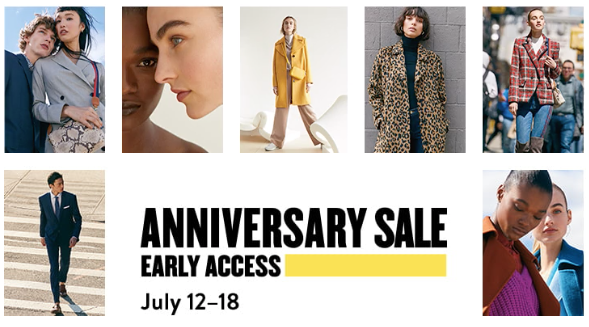 Happy Friday! Early access to the best fashion sale of the year – the 2019 Nordstrom Anniversary sale – is LIVE! I am so freakin' excited ya'll!! I've been rummaging thru all the inventory and let me tell ya..it's goooood! This sale is massive – my inquiring mind has gone thru each individual page of merchandise, but I must stay on course and remind myself (and all of ya'll) to shop smart. As mentioned in previous 2019 #nsale posts, I am focusing on items specific to your shop, and pieces that will provide sustainability. Today I've rounded up my top favorites from the women's department, shoes, handbags & accessories, and home and have categorized my top picks for an easy and convenient shop!
Cardigans & Sweaters
[show_shopthepost_widget id="3645542″]
Denim & Bottoms
[show_shopthepost_widget id="3647919″]
Outerwear
[show_shopthepost_widget id="3645697″]
Shoes
[show_shopthepost_widget id="3650858″]
Handbags & Accessories
[show_shopthepost_widget id="3645646″]
Home & Gifts
[show_shopthepost_widget id="3645656″]
---
A FEW MORE PERSONAL THOUGHTS & TIPS ON THE NSALE SHOP
Going to be real honest and say I have a love/hate relationship with this sale, and here's why:
This sale is incredible – really it is. One reason I LOVE covering it, devote time and shop it is because of HOW good it is. I've even deemed it the sale of all sales, because I truly believe it is! If you follow any fashion blogger right about now, you see the amount of content and hear the buzz. That all said, I know from experience, it's hard not to feel the NEED to purchase and take part. And more so, its very easy to fall into a trap of clouded judgement when shopping the sale itself.
When things start to sell out (which they already have and will) do not get discouraged. What's meant to be, will be. If you miss out, it's okay. Ya'll – it's JULY. The TopShop sweater or leopard cardigan that is all the talk right now will be put away in a few weeks and set aside until cooler months hit. (ie Sept or Oct). By then, other retailers will have their Fall inventory out, will have picked up on all the trends and will be offering similar items at more affordable price points.
Yes, I am covering the sale here and sharing what I feel are good investment/smart shop pieces. I plan on sharing what I have from prior years in IG stories and what I am purchasing. If you find one item you love and that makes you feel amazing, that makes me so happy. Don't let the influence and exposure of the sale overwhelm you and frown on your overall experience. It's supposed to be fun!
---
In addition to top picks, I also thought to share items I personally have from previous years with detailed info. I've also included my overall top wishlist items – ones I plan on grabbing this year. As mentioned above, I plan on sharing in IG stories all of these items (the recs and non-recs) next week once public access opens.
[show_boutique_widget id="851461″]
---
Providing you a convenient and easy way to shop is of most importance. You can easily access any of these posts during the sale by going to my blog's navigation menu and clicking on "Nordstrom Anniversary Sale". All my posts regarding the sale will be linked there.  For a refresher and guide to all #nsale logistics, be sure to check out my 2019 Nordstrom Anniversary sale post. You can also now head over to my catalog favorites post and shop, as the links are now LIVE and cart accessible! Stay tuned for a few more posts coming in the next 3 weeks. Top all around NSALE favorites (including personal buys), shoe picks, and in stock items are all on content course!
It's overwhelming, I know. Heck, nearly every blogger and influencer is covering this sale in all it's glory. Some on a grander and wider scale than little ol' me. I do want to say thank YOU. Thank you for allowing me to be your guide, for shopping through my links and sharing in all the excitement. The fact that you took the time today to stop on over here, read, click and shop is so appreciated. If you have any questions, need styling tips, or are looking for something in particular other than what I've already covered, please do not hesitate to comment, message me on IG, or email me at sarah@thesarahstories.com!
Happy shopping!! I cannot wait to see and hear all of your #nsale favorites this year!