Happy Wednesday and happy love month! I took a poll this past weekend wondering your Valentines Day dress code. The majority of you mentioned casual, which I can completely relate to. I haven't always been one to 'dress' up for American holidays.
Becoming a Mom has definitely brought awareness of celebratory attire, and to date, I simply cannot pass up a cute outfit for either of my kids to wear the day of. But for me, if I am to celebrate by way of fashion, these days – it's gonna be toned down a bit. Unless my husband has some hot date planned, we are most likely to save the sitter's dollar and stay in.
Don't get me wrong, I love a good dress up. Attending that fancy party back in December was pretty special. I realize circumstances may be different from one year (or holiday) to the next. Whether you plan on going the casual route or dressing to the nines, accepting your norm and celebrating in your own fashion is a good thing!
All said – for today's post, I wanted to feature 5 Valentines Day pieces and present optional ways to style them. Casual, dressy or in between you'll be able to style your way for Valentine's day! Contrary to what one may think with Holiday attire, styling these 5 pieces is simple, as they all pair well with basics already in closet. So, let's get to it!
---
This piece has Valentine's day written all over it. I love the mesh detail and pop of red in print. Wear as is with some cute strappy heels or tone it down gradually with a sweater/boot combo. For those opting casual, create an everyday look with a denim jacket and sneakers. Fits TTS.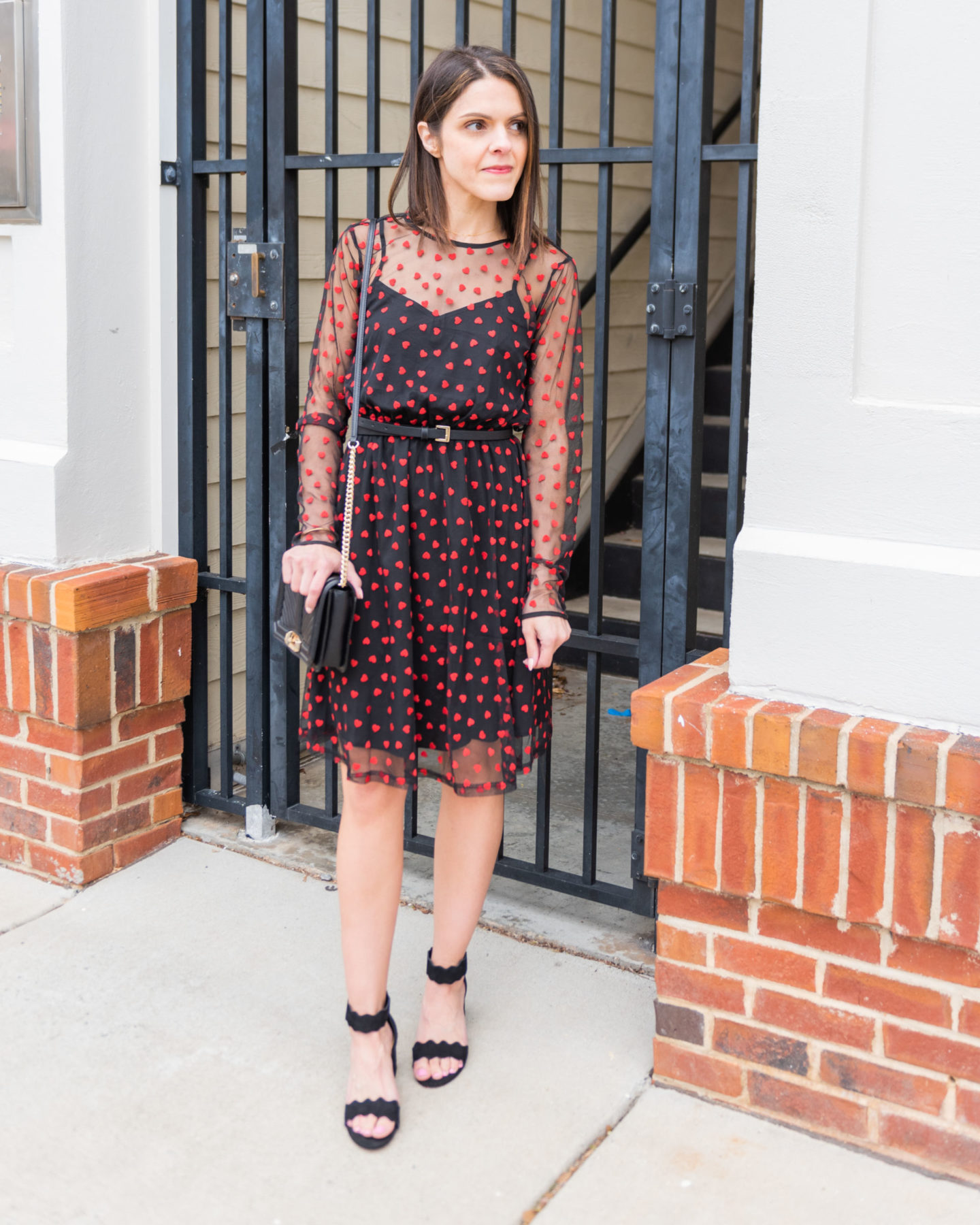 dress | heels (similar) | belt | crossbody

dress | sweater | booties

dress | denim jacket | tote | sneakers
I love a good midi skirt, and I am definitely swooning over this one. The subtle heart print makes this skirt viable for wear way past Valentine's day. For the dressier option, I pulled a few workwear items in closet. The blazer (a newfound Spring favorite), basic button up and nude heels compliment the skirt nicely. Next, you're two steps closer to casual – just switch out the blazer for a denim jacket and pumps for boots. Lastly, utilize one of those cute graphic tees you've in closet, pop on your fave sneakers and boom – holiday at your leisure.
skirt | white button up | blazer | pumps


skirt | white button up | denim jacket | booties (similar)
skirt | graphic tee | sneakers
Who can say no to heart poms and pink? I love the dropped shoulders, and ribbed neckline. Y'all know my love for the tulle skirt so creating the dressy option was simple. High waisted paper bag pants compliment the cropped design and create that 'in-between' alternative. Lastly, denim and taupe booties for the casual win!
sweater | another option | tulle skirt | heels

sweater | another option | paperbag pants | kitten heels

sweater | another option | denim | booties (similar)
Tho the color palette is perfect for Valentine's, this sweater can easily be worn all Spring. This sweater (TTS) is incredibly soft, making the choice for casual easy. Reversing order, I styled it casually with girlfriend pants and sneakers. High waisted skinny jeans and pumps then place your style in the middle. Finally, you can dress the sweater up and create shape by belting it. Complete your ampt up look with a midi skirt and pumps. Ta-da!
sweater | girlfriend cropped pants | sneakers

sweater | denim | pumps

sweater | belt | skirt (similar)| pumps
I fell in love with this skirt the moment I saw it – I mimicked the mannequin's fashion sense in my recent LOFT try on, took it home and recreated the same outfit again! I am not sure I'd categorize this outfit as dressy, but it's definitely holds a stylish bohemian vibe. Pulling those basics in closet (denim jacket, graphic tee, and sneakers) not only allow for an easy dress down, but prove this skirt a versatile closet addition! Fits TTS and also avail in Petite and Tall sizing.

skirt | sweater (similar) | belt | booties (similar)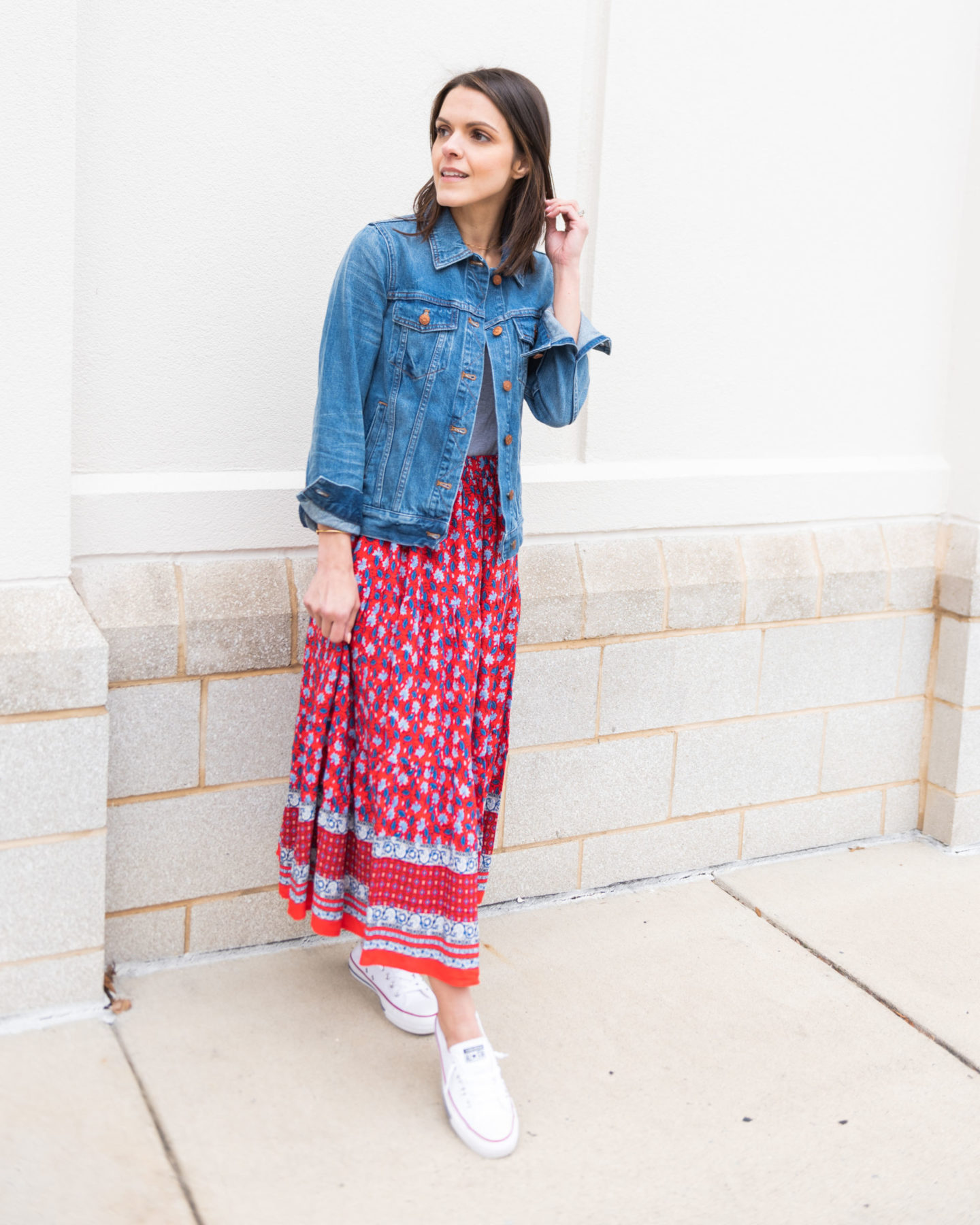 skirt | bodysuit | denim jacket | sneakers
---
There you have it – 5 options for Valentines Day in ways to style your way! Casual, dressy, or in between – may you feel confident in choice. Embracing your style – tho we forget – is an act of self love. Just so happens Valentines day gives us opportunity to practice it.