With the temps heating up, it's known that our search for the perfect short will become increasingly popular. But let's be honest, it isn't always easy – and with so many options out there, it's hard to know where to begin! With the short category so broad, I thought to focus in on the favorited thread – denim. I've topic'd a couple roundups here before around denim, tho thought to discuss more the logistics of sizing and the differences between each pair to help narrow down your search this season.
When it comes to any clothing search, I'll be the first to admit, I am wildly influenced by those I follow on social media or even thru a targeted marketing strategy. I don't find it negative in the least. Not because I am an 'influencer' myself, (if I am being honest, I don't particularly love the title. I feel it's been given a reputation that undermines creativity) but am often convinced because they're relatable.  I trust the opinion of someone whom I've built a connection with, over a brand commercial that is run on a sole intent to sell.
Back to the search – You may see your favorite influencer wearing the cutest shorts, buy on a whim and once you've them on, you realize the fit isn't quite what you had in mind. It happens to the best of us; Shopping online is often a risk, so a few hits and misses are understandable. The latter instance and often my case – I may be influenced, tho turn hesitant on the buy because I am unsure of how it's going to fit me. I get frustrated in the effort, give up and am back to square one.
I won't discredit the influencer, she's been helpful in presenting options. I won't undervalue my hesitancy, it's smart and something we all should consider when building a wardrobe. And I won't deny my own research in reading reviews and even rummaging thru the listed details on site. I will and have learned, however, to place importance on learning sizing specifics. It makes a huge difference in my search, especially when it comes to denim, to know the numbers. And I believe it will in yours, too. Having that info available prior to any decision I make, is often helpful. So to do my due 'influencer' diligence, I've outlined those sizing specifics for you in today's denim short round up to ease any frustration that may arise on quest.
Today I've rounded up several 'popular' pairs of denim shorts. By that, I mean those you may have seen or advertised this season as the best short. They've been deemed the best from formula alone. Seemingly for many, the sizing numbers and style preference align perfectly. But that's not to say they will for you. Which is okay – it's better to cut out what doesn't work from the start rather than going thru a vicious cycle of trial and error.
I am not foreign to trial and error, as I am sure you aren't either. But my hope today is to keep it minimal and provide you numbered details on the 6 pairs below (inseam, leg opening, rise, overall length and price). We've all different body types and more so – unique styles to consider. I want the deciding end factor solely on style preference (your likes and dislikes) rather than you guessing if they're going to ride up from a short inseam or skim your chest from the rise.
Below I've shared definition and reasoning on each measurement – a sort of 101 on sizing specifics. I've listed these numbers in description under each short. I additionally share opinion of each, if they fit my personal style preference and note my best denim pair of shorts (if you're curious).
---
Important Numbers to Know
Inseam | This measurement is simply the length from the crotch to the bottom of the pant leg. I find this extremely helpful, and one I get the most questions about when I share any bottom. I prefer a 3.5″ or 4″ inseam, unless I'm going for a Bermuda style or something intentionally longer.  If shorts are intended to be looser, I don't mind the inseam a little shorter.
Leg opening | I prefer my denim shorts to be looser around my thighs. I don't mind the tight fit in skinny jeans, as the denim is extended to the ankle. But with shorts, I don't particularly like the tightness mid thigh. You might prefer the latter. Either way, knowing the leg opening measurement – or the circumference – helps to rule out an ill fitting pair of shorts quickly. Considering the inseam, I've a good starting point to measure the circumference of my own leg. I then take my own leg circumference and compare that to the shorts leg opening. If they're equal, I know the shorts will be entirely too tight for my liking. For me, an optimal fit is when the leg opening is at least half an inch larger than my leg circumference.
Rise | Ya'll know I enjoy a high rise. The higher the rise, the more secure I guess. But I realize it's not for everyone. The waistband of low-rise pants rests as the hip bones, mid-rise between the navel and hip, and high rise at the natural waistline (close to the belly button or directly on it). The rise is found by measuring the point of the crotch seam spot up to the top of the waistband.
Overall length | This number is simply the inseam and rise, combined. Some just prefer to know this number to gestimate based on height.
---
Agolde Dee Short | Tho these are a bit higher in price, these are really good. The inseam is right where I like my shorts to be, rise is high and the length is slightly longer than the others noted below. There is minimal stretch as the denim feels like a true denim. If you are working within budget, these are very comparable to the Abercrombie 4″ Mom shorts  – at half the price. 

AE 90s Boyfriend Short | Other than the inseam being longer, these fit much like the Agolde Dee short. I've always interpreted the boyfriend 90s style to hold a relaxed and loser fit. Wearing my true size, this particular pair isn't as much relaxed as I'd thought it would be. So for a true 'boyfriend' feel, I'd size up one size.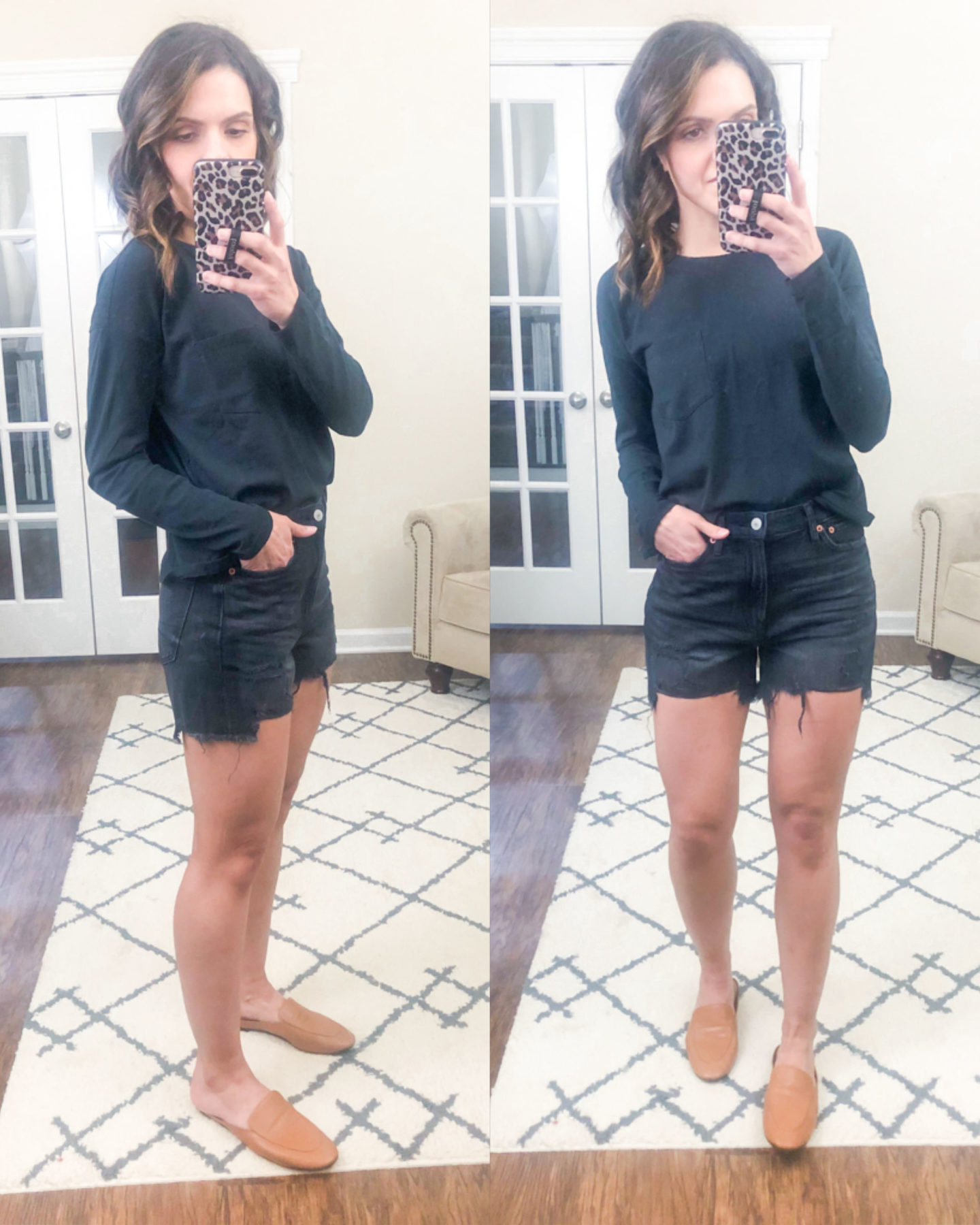 AE Short Short | As the name states, these are short. These are categorized as Ne(x)t level stretch – meaning their softest, stretchiest, never-loses-its-shape denim. While I love the rise, distressing and fabric construction, I knew these would be a little too tight for my liking and style. Like mentioned, I don't particularly love a tight short. And trying them on confirmed my fit calculations. I took the inseam length as the starting point to measure my leg circumference and found that it was equal to the leg opening measurement. This particular pair is a great example of why it's important to know the sizing specifics. Other than purchasing these for the round up, I wouldn't have ordered them. That's not to say you shouldn't tho. These are very cute and could be your best pair of shorts – assuming the numbers and your style preference match!
Abercrombie Mom Short | Looking at the rise alone, I may not have tried these out. But, I decided to give these a try, and I am so glad I did. While they hold a short inseam, the leg opening is relatively wider, making them feel longer than they are.  These have minimal stretch, a high rise (which I love) and are available in several washes. I love these so much I have them in the Medium Shredded wash and White wash.
Wild Fable Bermuda short | In description on site, it states these are constructed of 99% cotton and 1% spandex – reason why these are by far the stretchiest in the bunch! I love the minimal distressing on the thighs and the length of these is a nice contrast to others shown. The combination of stretch and rise rank these high on the comfort scale.
Universal Thread Olive Midi-Short | Absolutely love the color of these. These have a good amount of stretch throughout the leg and minimal stretch in the waistband. Tho not as stretchy as the Wild Fable bermuda shorts, the denim is still stretchier than the Agolde or Abercrombie pairs. Very affordable, I might add, at $15.
There you have it! I hope you found this denim short round up helpful and see the importance of sizing specifics! Here's to finding your best pair of denim shorts this season!