Who amongst those here have started Back to School shopping? Not gonna lie – it's one of my favorite past times. I was always so excited for the 'trip'! And a count down to the most epic shopping trip of the year was inevitable. Yes, all the new school supplies were fun in themselves, but the clothes are what excited me most! Seems fitting that Ellie feels the same way. Just this past week we were running errands, talking the start of a new school year and she said, "I am kinda excited about meeting my teacher. But you know what I am most excited about, Mommy?" In her most sassy tone she stated, "the shopping spree!"  (Now if that doesn't attribute her my daughter, not sure what does!)
This past week we took the kids to grab school supplies and plan for the full shopping trip later this week. We will have all the essentials marked off list and they'll be ready for the school year. Aside from the kiddos tho, we cannot forget about those that give reason for the shopping trip itself! Without our teachers, we'd be at a loss. As a parent, I truly appreciate the God given gift teachers carry, and express my deepest gratitude to of those here in the education field! THANK YOU for all the time and support you share with our children. That all said, teachers need new clothing too, don't you think?
I know I am not a teacher, but in the past I've had to find pieces that are work appropriate, layer able and considered dress casual. This week I headed into LOFT, knowing they carry such pieces. I've pieced together several looks below, styling many of the pieces in different ways so it could almost be considered a capsule wardrobe. I've linked the items used under each batch of looks to show versatility! For those here that aren't teachers, all of these looks I consider them suitable workwear options.
---
That said – this post is the fifth in the workwear series, and you'll be able to access all other workwear related posts here. Additionally, every time I do a try on, I upload individual links to the designated retailers page. Under each stock image, I include details on sizing worn during the most recent try on and any thoughts worth noting. The items shown today coincide with the BTS Teacher try on shown below.
One more tidbit to note – as in all Workwear try ons, I made sure to bring along my favorite low block heels and woven mules for the try on.  Both I think classy, versatile and very affordable. I've linked them below in the "shop the post" widgets.
*all items are linked under the photo with sizing details*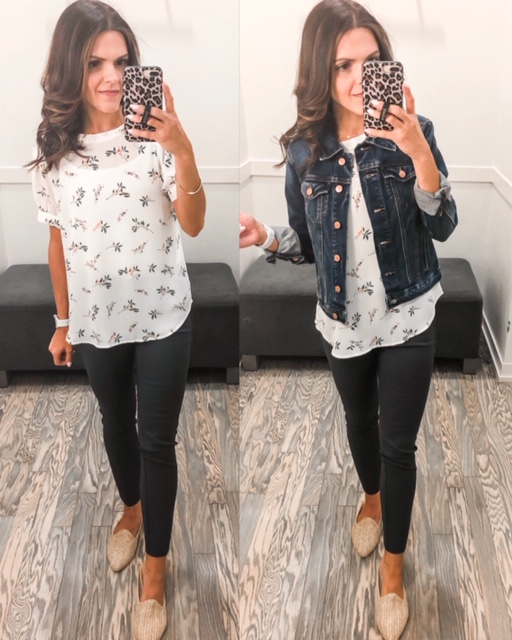 floral top (XSP) | denim jacket (XS) | pant (2P) | top (XS-also avail in plus) | cardigan (S)
[show_shopthepost_widget id="3689520″]
---
cowl neck top (XS) | pant (2P) | marled sweater (XS)
white button up (XSP) | denim jacket (XS, also avail in petite & tall)
cardigan (S) | cami (XS) | skirt (2P) | black top (XS, also avail in petite & plus)
[show_shopthepost_widget id="3689527″]
---
shell (XS, also avail in plus) | denim (25) | cami (XS)|
cropped wide leg pant (2P) | butterfly top (XS, also avail in petite & plus)
[show_shopthepost_widget id="3689531″]
---
jumpsuit (00, also avail in petite, plus & tall) | duster (SP)
[show_shopthepost_widget id="3689533″]
---
utility jacket (XS, also avail in petite, plus & tall) | white top (XSP) | pant (0P)
[show_shopthepost_widget id="3689535″]
---
Hopefully this little back to school teacher try on has helped in choosing a few good basics for your closet this season! If you ever have any questions, please do not hesitate to reach out! Comment here or dm me on the gram! As always, thanks for stopping by!
xo