From as far as I can remember, I have always loved fashion. I remember finding one of my Mom's ruffled red maxi skirts, pulling it over my chest, adding a belt and thinking I'd be the next up and coming stylist. Grinning as all get out, I thought I was something' else. My skirt turned dress may not be fashionable today, but for a second grader, I was pretty darn proud of my creativity. My love for fashion and the act of styling has clearly stuck with me. I thrive on finding pieces that are versatile and sharing ways to style them. But as much as I love to explore my own creativity and share it here with you, my personal closet can only go so far. Classics, basics, and everything in between – the outfits start to look the same as seasons progress. They become redundant, and dare I say, boring. But pulling outside inspiration, updating my wardrobe and refreshing my closet each season can greatly influence my style creativity. And a fresh take on modernized fashion is always nice, too.
In effort to provide the means to style discovery, I am excited to share with you my cure for the static closet. Sure there are 'out of the box' remedies, tho in order to gain a fresh style perspective, calling upon the experts and working with a real stylist 1:1 is optimal. I've partnered with Allume Style today to review their personal styling service!
---
What is Allume? // First, Allume isn't a subscription service or an outfit in a box option like other online styling companies. Instead, you're getting a personalized styling session and working 1:1 with an online wardrobe stylist, first hand. Yes, you'll similarly complete a quiz about your preferences and budget, but you also have text-message-access to a stylist throughout the entire process. This 1:1 styling session is tailored to you. Your stylist listens to your needs and creates 3 personalized looks.
What's the process? // You can get started with Allume by signing up and taking the quiz. The quiz is simple and gives your stylist a detailed idea of what you're looking for, your preferred style, and even if there are any special challenges when it comes to clothes. The sign up and quiz took me less than 5 minutes. The styling fee is $20 and at end I was prompted to schedule my 1:1 with my stylist via text.
Prior to my actual session, I received a confirmation of my appointment, and opportunity to view their 'Shop the Look' section on site. I was blown away with all of the inspiration offered on the site alone. I could browse the collection of looks by best sellers, those trending, or even style type (ie workwear, casual style, etc). She mentioned to send over any I loved, which I thought a personal touch and indicated to me that this was, in fact, a personalized session scheduled just for me.
An added extra – this 'Shop the Look' section is available to shop from even if you do not schedule a personalized style session. It's a great source to pull from for outfit inspo. The looks seen in this 'shop the look' section are formatted similarly to those you receive in your style session. And if you do end up purchasing pieces from your individualized look book, your $20 styling fee is refunded.
The day before my actual session, my stylist sent over a welcome message and shared with me a Lookbook she had already put together for me. She asked for feedback on which pieces I loved or if any didn't seem like me. I shared with her what I loved and what I already owned. Again – this personalized approach to style really sets Allume apart.
On prompt time, my stylist sent over a curated Lookbook, consisting of 3 personalized head-to-toe outfits. We reviewed all three looks together and she made edits during session based on feedback. My looks included brands I know and love, and some new ones I've never heard of! Reviewing the curated outfits, it was clear she chose pieces specifically for me. She chose pieces that work best for my body type, my style, and where my wardrobe needed the most love.
I loved how my stylist paired some items I already have, with some of her recommendations for the season. In conversation, she also suggested outfit options using the pieces from one look to the next! I was able to purchase direct on site, with items then shipped from the brand or retailer.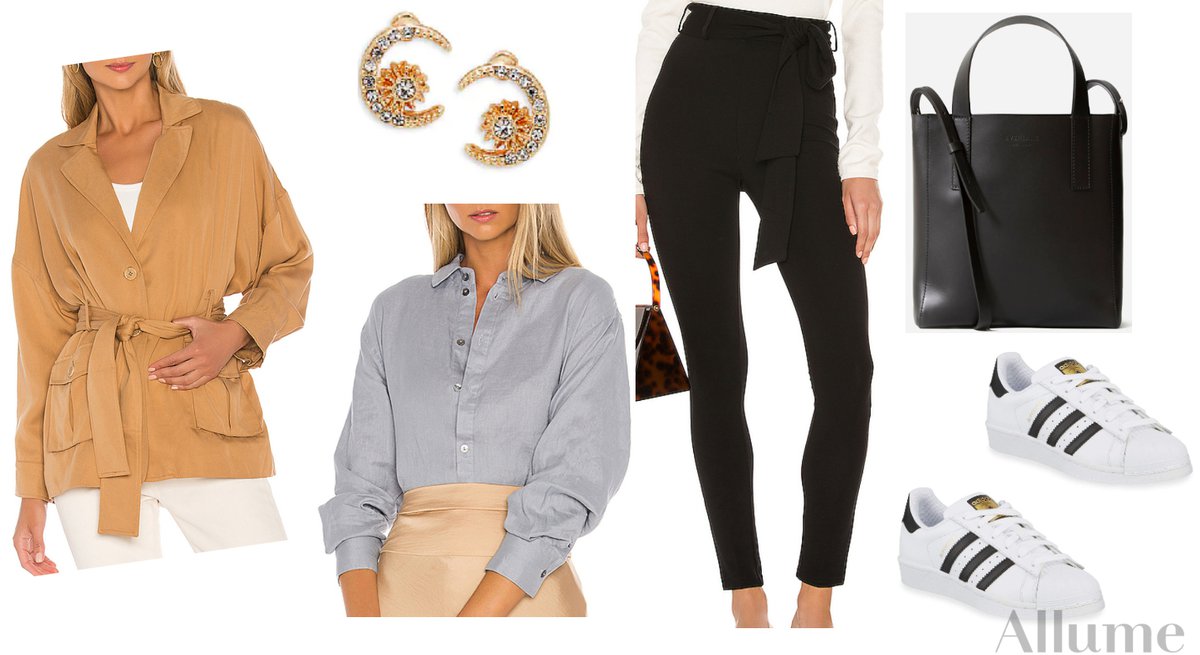 Anyone can shop the pieces my stylist sent to me! Shop my Lookbook!
One little note – upon receiving a few items, they unfortunately didn't fit right. With Allume, all returns and exchanges are done directly with the retailer, which I believe smart – no need for a middle man. In my attempt to exchange, I noticed the size needed wasn't available. I then thought I'd be back to square one in my attempt for a closet refresh. I texted my stylist; She took the guesswork right out and found me similar options. She helped me find pieces in my size that correlated with my style, closet, and budget. A solid proof of personalized service.
Allume gives me an opportunity to update my wardrobe with pieces I know will work for me. I discover new brands, gain a fresh style perspective, and have access to style inspiration (from my own and those on site) 24/7. I truly look forward to utilizing these benefits each season or more frequently if I notice my closet dull.
---
SPECIAL PROMO!!
Allume Style is graciously offering 50% off your first styling session with code: 'SARAH50'. It's a great opportunity to update your wardrobe this season, gain fresh design insight, and discover your own creative style! I cannot wait to hear your experiences! Let me know in comments or DM me on Instagram! As always, thanks for stopping by!
xoxo
**Thank you to Allume Style for sponsoring today's post. As always, all opinions are my own**