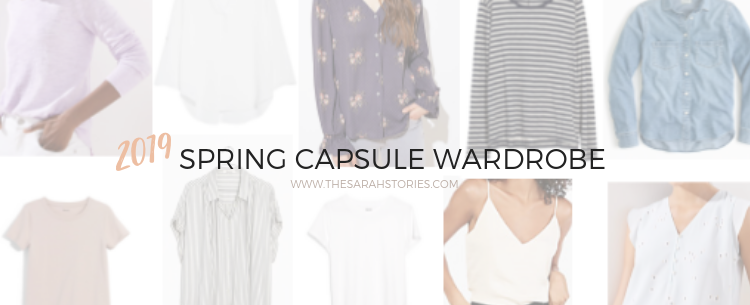 If you remember last fall I shared the fundamentals of a wardrobe capsule. Establishing a capsule wardrobe – wether it be seasonally, or even monthly, allows you stretch your closet, get the most use out of each piece, and truly appreciate the pieces you've chosen to wear. And from a financial standpoint – prevents the overspend.
With the seasonal change and increase in warmer temps, it's understandable that Fall's capsule may not provide  optimal clothing options. It's time for a shift in your closet! Today's share brings you a Spring capsule wardrobe consisting of 28 pieces. I've broken them into five categories, with countless styling options.  Much like Fall's capsule, I've stuck to several of the basics, but have added in a few of the season's trends for styling creativity.
I'll note, capsules are often seen color coordinated. Stock images don't always provide a true representation of color. I have seen all of these pieces and truly believe this Spring capsule below creates a beautiful wardrobe you'll love this season. I tried to stick to neutral tones and chose classic stripes, chambray and florals to allow for versatility. Once you've established a capsule, the mixing and matching is what makes the effort worth while. You'll discover the true stretch of your closet and experience all the benefits of capsule development.

Here's a breakdown of what's included in the Spring capsule, with links to the items and corresponding retailers.
Outerwear + Cardigans (4):
drawstring Utility jacket (Loft) 
denim jacket (Madewell)
beige striped shirttail open cardigan (Loft)
sage ribbed pocket open cardigan (Loft)
Top + Sweaters (12):
grey striped Mix media peplum (Loft) 
lavender shirttail sweater (Loft)
white roll Tab sleeve tunic (Nordstrom)
bell cuff button front blouse (Loft) 
whisper cotton stripe long sleeve crewneck (Nordstrom)
chambray shirt (J.Crew)
ashen silver vintage tee (Nordstrom)
grey central stripe shirt (Madewell)
white vintage tee (Madewell)
ivory camisole (Express)
floral henley shell (Loft)
oatmeal color block crewneck sweatshirt (AE)
Bottoms + dresses (7):
dark wash high rise skinny jean (Abercrombie)
olive linen joggers (Nordstrom)
light wash high rise mom jean (Abercrombie)
white high rise skinny jean (J.Crew)
black high rise ankle jean (Abercrombie)
black maxi dress (Amazon)
denim A-line mini skirt (Madewell)
Shoes (5):
beige Aurora mule (DSW)
black Frankela bootie (DSW)
tan leather platform wedge sandal (Nordstrom)
Chuck Taylor sneakers (Nordstrom)
cognac Harper mule (Madewell)
For the purpose of today's post, I've put together 12 separate outfits from the Spring capsule. Ones shown are just some of the options available – you can easily swap out one item, for another to create an entirely different ensemble. The five categories – outerwear + cardigans, tops + sweaters, bottoms + dresses, and shoes– will have you covered and are sure to carry you into Summer. (feel free to pin them for reference!)
*click the images below to shop items from the retailer's page*
[show_ms_widget id="36017556″ image_id="41882175″ width="616″ height="797″]
[show_ms_widget id="36017557″ image_id="41882176″ width="616″ height="797″]
[show_ms_widget id="36017558″ image_id="41882177″ width="616″ height="797″]