Open the gates – public access to shop the Nordstrom Anniversary Sale is here!! If you're like me, you've shopped  already; You're on tracking duty and have found yourself a permanent doormat spot. The uber cute booties and fresh new denim cannot come fast enough! For the latter, I am sure some of you are completely over it and could give two – you know what's – about open access, and for those that are, I do feel ya. It was a wild ride last week seeing all the content, try ons, and shopping the sale. It thru me for a loop, quite honestly! I was unbelievably exhausted Friday evening! BUT, I've taken a little breather from the sale, opened way for other content and coverage this week (can we agree Prime day was ahhmazing?!) and am so excited to round up the best of the best for ya'll today! A little recharge and refresh always paves an open road! So who's ready for my all around sale favorites?
As ya'll know, it's been one week since early access opened to card holders and as predicted, items are selling out quick! Hang tight! To all of those shopping public access today, there is reason for hope! Of all the items that were scooped up last week, several will be returned and you'll see an increase in availability on many of your favorites. Like I mentioned in last week's early access top picks post, "If it's meant to be, it will be." Items I had hoped to purchase slipped right out of my cart and out of stock. Today I am holding out hope on a few item restocks, myself! Stay tuned, as I plan on sharing restocks as I see them in stories! You can also check out my Anniversary Sale dupes for similar options available!
Today's post rounds up my all around top favorites from this year's sale. It really is a potluck of all my favorite items in one. Cue the list: Some are pieces I have in closet from prior years and are too good not to mention. Some I haven't mentioned as of yet –  Thru all the hype and wonder thru site a few have topped my list to grab this week. Some are from departments and categories I haven't covered – beauty and basics. And lastly, several are ones out for home delivery! (told ya, my doormat spot is pretty cozy). I've made sure all listed are available and in stock (note – if for some reason it isn't available, I will do my best to link it on sale elsewhere or a more affordable option/dupe worth the look). Let's get to it!
---
To shop, click the corresponding numbers below the image. I've also linked with descriptions & thoughts on each item thereafter.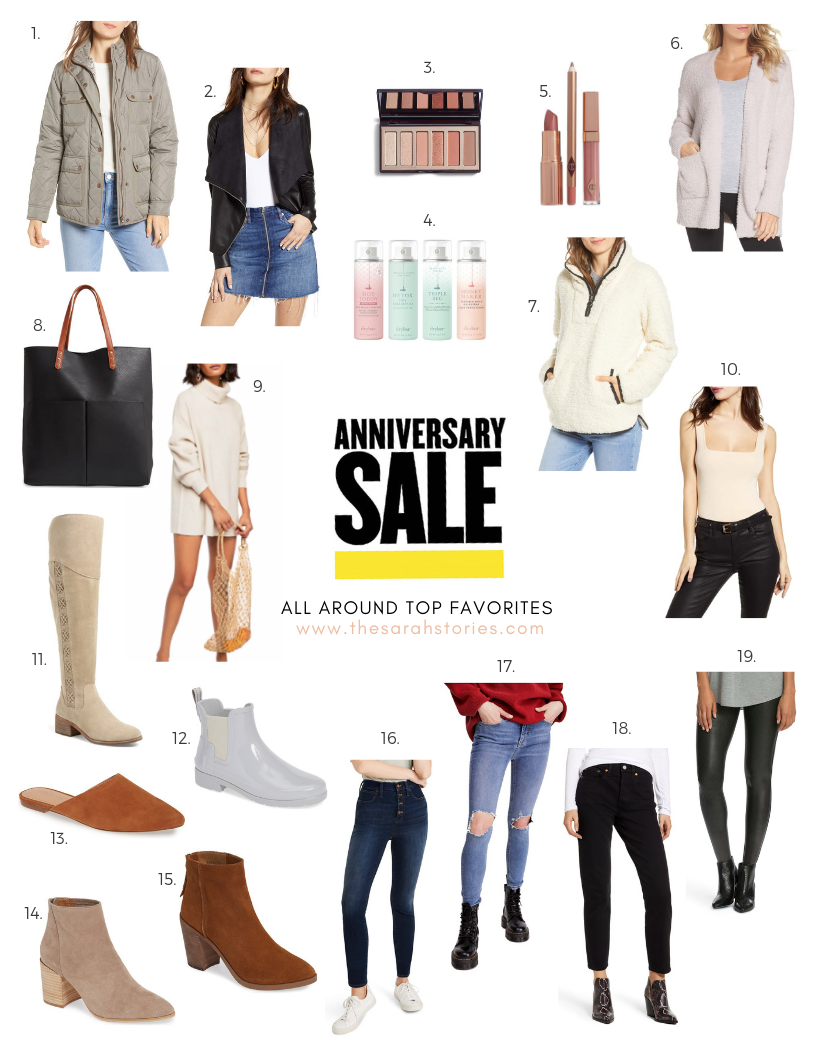 one // similar | two | three | four | five | six | seven | eight // similar | nine // similar | ten // similar | eleven | twelve | thirteen | fourteen | fifteen | sixteen // similar | seventeen // avail here | eighteen | nineteen
[show_boutique_widget id="855371″]
---
How about you? Did any of my favorites top your list? Hopefully you've grabbed (if not already) all that's made the cut! While I do love a good sale, keep in mind this is not the end all be all of your fall wardrobe! As stated time and time again, other retailers will be sharing their newest Fall arrivals soon – all the cardigans, booties, blanket scarves your Fall heart dreams of! Enjoy the shop today knowing there is more to come!
xoxo