10 Things I'm Loving | December
I've purchased a few things lately that I have been loving, and since I unintentionally skipped November's write up, I thought it best to share! A few of these items Santa brought, but the majority of them have piqued interest for some time now. So let's get to the list of things I am loving for December, shall we?
one | Colleen Rothschild: I mentioned in October i've implemented a few new products into my skincare regimen. Now officially in my 40s, my skin isn't getting any younger, and choosing more targeted anti-aging products is likely best. Having done a little research, I decided to give Colleen Rothschild a try. This brand holds skincare that suits my needs as it intentionally targets my fine lines, hyperpigmentation and my thirsty skin. I used the last of my Glycolic Acid peel pads last night and am running low on my favorite Facial Oil No. 9. When products turn empty, you know it's good! Both have shown visible results!
two | Merit Instant Glow Serum: A few months back I was gifted a few of Merit Beauty's products and fell in love with the brand. Having heard great things around their Instant Glow serum, I added one to my cart in my most recent Sephora order. It has 4 types of hyaluronic acid that targets hydration, Niacinamide to help brighten the skin, and a caffeine-rich cacao seed extract to stimulate blood flow for an immediate plumping effect. I've been using this every morning for an instant glow. It absorbs quickly and leaves my skin plumped, hydrated, and prepped for makeup!
three | Taylor Swift: If you subscribe to my monthly style newsletters, you're aware that I've been listening to the newest TS album: Midnights, non stop. It may have taken me a few years, and I may be 40, but her music and lyrics are next level. This Christmas, I surprised my daughter Ellie with tickets to see her in concert, come May. I cannot wait to see her live, and more importantly experience this with Ellie!
four | Schutz knee high boots: I rarely throw this around, but I am obsessed with these Schutz knee high boots. The moment I pulled these textured black boots out of the box, I knew they'd align perfectly with my style. They're chic, edgy and so much fun to wear. I styled them a few ways here!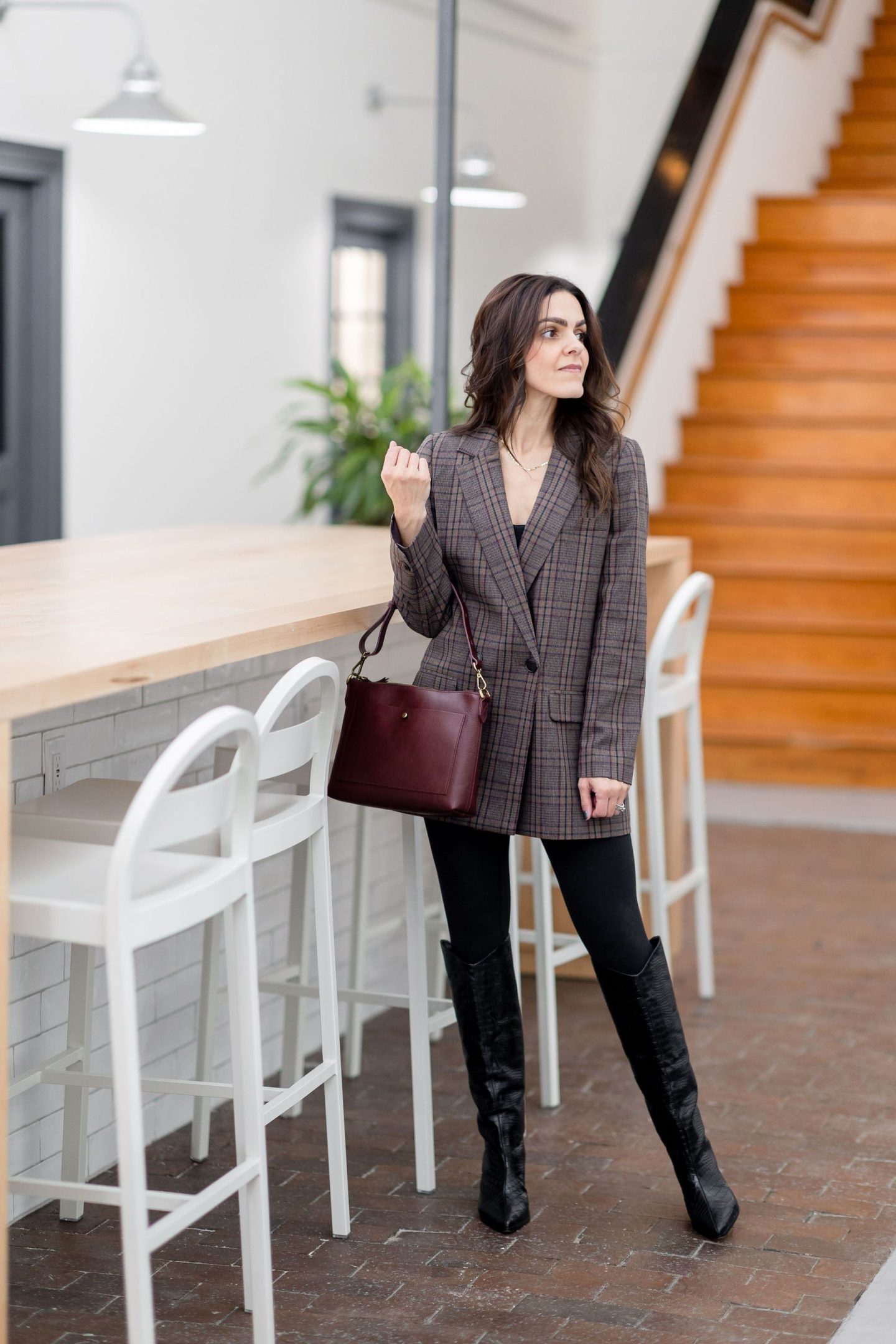 five | Dibs Beauty Desert Island duo + Static Stick: Maybe I've been watching a lot of BeautyTok, but my interest in makeup application has been at an all time high. Looking for the perfect bronzer, I experimented with a few brands and landed on a favorite. Dibs Beauty has their Desert Island duo which is a blush and bronzer stick. One side a cream bronzer, the other a gorgeous creamy blush. I picked up Shade No. 2 (although I've now a few other shades in cart!) and love the tones on my skin. I also picked up their face and body highlighter Static stick and the formula is incredible. It's not greasy, and provides the perfect glow anywhere needed!
six | sweaters: So I am pretty sure sweaters made my October list, but have decided it's completely okay to love something for more than one season, am I right? I outlined a guide to the sweaters I've found best for Fall a few months back, and can attest that guide applies to Winter, too! Cable knit, crew neck, cashmere and beyond, having a 'kit of knits' to pull from is so beneficial and makes getting dressed that much more fun! This cable knit and oversized slouchy sweater have been on repeat.
seven | coats: I have a major weakness for a few things when it comes to fashion .. shoes, sweaters .. oh, and coats. I love them so much that our entire spare bedroom closet has turned into my coat closet. I know, I can purge and minimize all other components in my wardrobe, but when it comes to coats – well, that's a hard swallow. Don't judge. We are in the heart of Winter here in NC, so justifying that coat spend is been a whole lot easier. A few favorites on repeat include Sezane's Johnson overcoat, J.Crew's long wrap puffer, and Good American's oversized plaid shacket.
eight | bala bangles: These were on my Christmas list and I was extremely excited to have received them! Daily movement is extremely important to me. While I enjoy a good sweat sesh on the bike, I like to balance my workouts with low impact strength classes. These Bala bangles can be worn on wrists or ankles and add a comfortable resistance. The bangles pair best with lower-impact exercise, like yoga, barre, Pilates, strength training or walking. I am excited to wear them on days my movement routine needs a mix up!
nine | Life in Lilac: If any of you follow Jen Reed over @thesisterstudioig, you've heard and most likely know of this incredible luxe candle brand she's established. I added a Holiday set to my Christmas list and Santa delivered. I immediately lit the 'Holiday dreams candle' upon opening it and within minutes it filled my home with the most amazing scent. It truly smells like Christmas. I also received one of her diffusers, that I cannot wait to add to our guest bath.
ten | Dime Beauty Dans Les Bois Perfume: Truthfully, I've never been a perfume girl. Over the years I may have had one spray I enjoyed, and it wasn't even considered a perfume, it was more of a spray. I also am a little hesitant to purchase full size bottles of perfume prior to smelling them. Anyone else?
This past Summer I'd discovered Dime's 7 Summers perfume – a nearly exact dupe to Baccarat Rouge 540, but more affordable. It's entirely clean and it smells heavenly. I wanted something a little more woody and spiced for the Winter and knew their best selling Dans Les Bois is loved by many. So on a whim, I decided to add it to one of my restock orders. It surpassed any prior notions by a landslide. It holds the desired warm and earthy tones of cedar-wood and is balanced with subtle fresh florals. I love it, my husband loves it, and I've even been told, "I smell good" from my 12 year old son whenever it's worn. It's a win! Save 20% with 'sarahstories20'.
---
There you have it, 10 things I am loving for December! Hopefully something on this list brought a smile to your day! As always, thanks for stopping by! xoxo