Last week we got the official invite for my husband's company Holiday party. I love a good Holiday party, don't you? The opportunity to dress up with no needed explanation (not that I ever need one) gives this style loving, homebody of a mom the hope she needs to get out and enjoy adult conversation, celebration, and festivities of the season. You can bet I went to work and pieced together several looks to choose from so that I am well equipped with options the night of. Whether you're entertaining, or you've parties on calendar, today's post shares 10 Holiday party outfit ideas to pull inspiration from this season.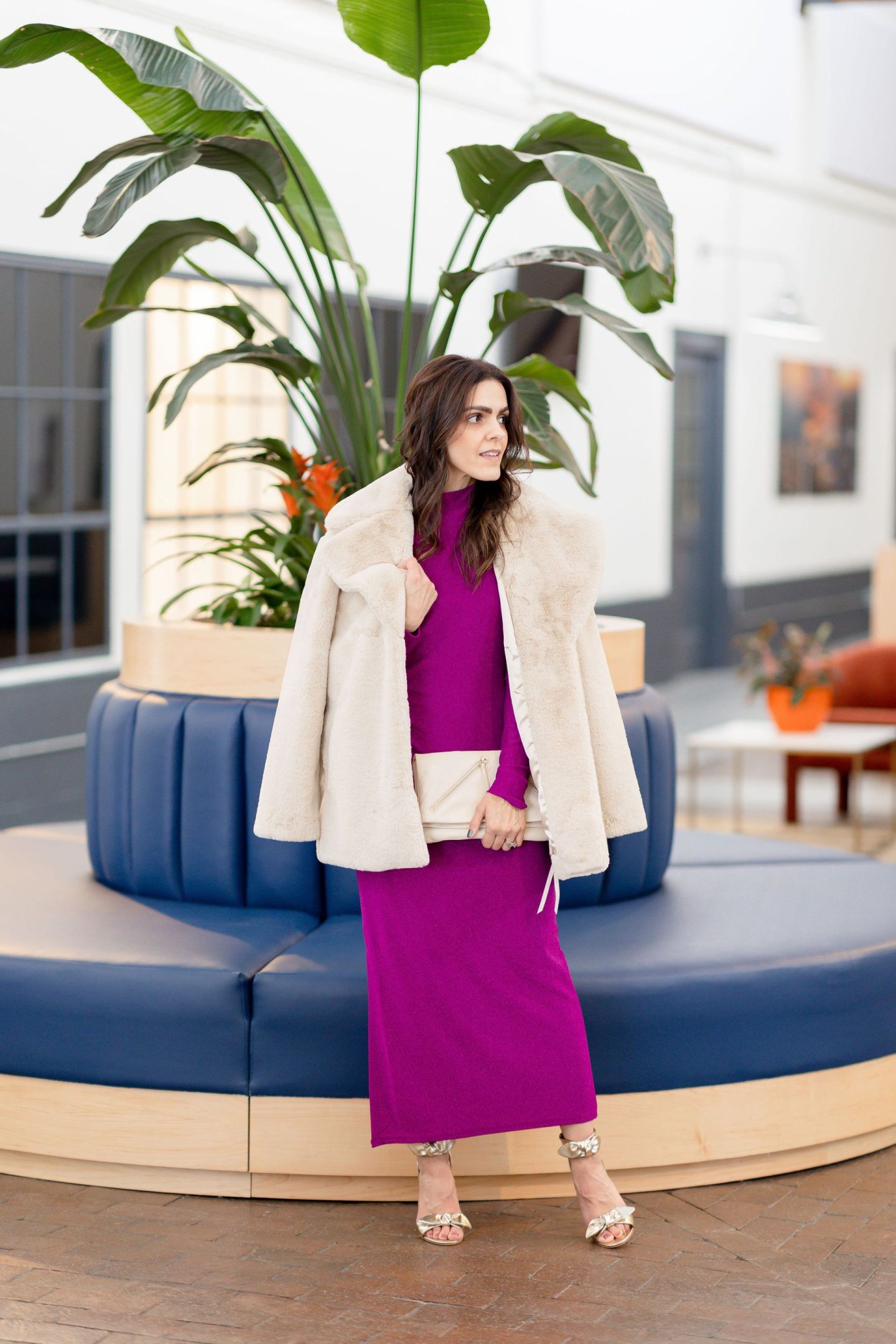 ---
In searching for the perfect cocktail attire, I knew I wanted something a little daring, yet classy. This magenta colored cut out midi dress won me over. It's elegant and eye catching. And knowing magenta was named Pantone's color for 2023 helped sway my vote even further. This one has been known to go in and out of stock, tho I found this one very similar that will equally turn heads. This Self Portrait bell sleeve option was second on my list. They are both equally flattering and would work beautifully for any party calling for cocktail.
I love the idea of a skirt for any Holiday party. It's festive and provides a ton of options for tops and accessories. This sequin lattice pencil skirt holds the perfect amount of sparkle. I also love the idea of pairing sheer anklet trouser socks with the caged heel sandals. It's definitely a little out of the box for me, but when the opportunity to try new presents itself, why not? And if you're looking for a bit of festive edge, this pleated faux leather skirt is the perfect find! Add a seasonal printed blouse and pumps to complete your fit.
Nothing says the Holiday and celebration like sequins, am I right? This long sleeve sequin top caught my eye and I think it pairs beautifully with coated black jeans, or any trouser pant. And while I love gold and silver, this rose gold wrap dress would make heads turn and in the words of Taylor Swift, "make the whole place shimmer!"
If dresses and skirts aren't for you, opting for a sleek pant is just as festive. I recently shared these coated jeans and feel they'd work perfect with a feathered sleeve blazer and satin bodysuit. These slim open hem pants are very on trend and pair nicely with a feminine blouse and statement earring.
When I can utilize pieces already in closet, it's a win in my book. This velour jumpsuit is beyond soft and can easily be dressed up with a sling back heel and draped blazer. I also love the idea of utilizing textures and opting for a sophisticated tweed jacket to complete your look. Either outfit reads chic, comfortable and classic.